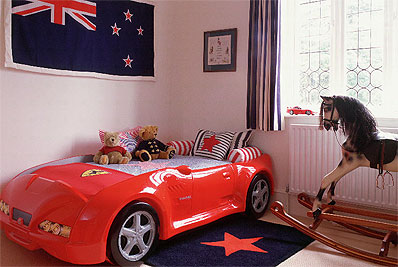 98. We're going to be redecorating our children's bedrooms soon and the one thing I'm struggling to find is beds. They're either too babyish or themed. Where can I find simple, modern beds for children? You're right - when it comes to children's beds, there isn't much choice out there. If a racing car in mdf is not your thing, then a more classic but simple bed is probably the only alternative. Take a look at the Vermont range of beds from Aspace (£342.55), which come with a neat pull-out drawer for storage - great for keeping clutter at bay or storing bedlinen. Also check out the Shaker beds at Warren Evans, or Wigwam's New England beds.
99. We've just had our first child, and it's got me thinking. I remember my mother having a rocking chair for the kids in our house when we were young. I'd love to find a more modern version for our home, and you might be able to help! The rocking chair, along with the wingback chair, really is the fashionable furniture of the moment, but it's yet to hit the design stores fully. Ineke Hans has done a very solid and earthy version called Country Rock for Cappellini, which definitely gets my vote. It's made of solid lime wood and measures 63cm tall, so would be ideal for a child. More importantly, it should stand the test of time, so you can pass it on to future generations. It's available from Chaplins and costs from £1,665.

100. We live in a smail two-bed flat with our two toddlers, who share a room. Soon they'll have outgrown their cots but we don't have the ceiling height for bunk beds, and two singles would take up the entire floor. Is there a way we could get them a bed each in a tight space? I was struggling to solve this until I remembered about 'pull down' beds. They used to be very bulky, but these days everything's been slimmed down. In fact, many now fold back to take up just 31cm in depth (like a standard book shelf). The most impressive are by Clei. There are various well-designed folding options, like side-folding, sofa-bed, pack-away, even fold-down bunk beds.

101. Where can I find a single upholstered child's bed? I'm decorating my young son's room, but I haven't seen anything that fits the bill in catalogues or magazines. There are hundreds of stylish kids' wooden bed frames available, but very few traditionally upholstered designs. For something a bit special, treat your son to a My First Bed, from £349, Silentnight Beds. He can pick the colour of the mattress base and padded headboard, and there's even a choice of theme (including Hippo, Football and Duck), with matching headboard decorations and feet.
Need some DIY help? Hire a tradesman today with our handy tool!