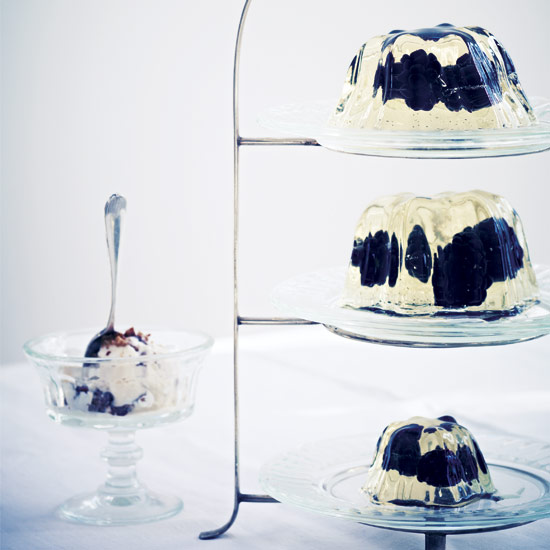 Serves 6
For the Apple cider and blackberry jelly
150g caster sugar
750ml apple cider, chilled
6 leaves of gelatine
300g fresh blackberries (roughly 3 to 4 per mould)
For the Roasted oat and hazelnut crumble ice cream
100g plain flour
25g clear runny honey
Pinch of sea salt
50g dark brown sugar
75g unsalted butter at room temperature
50g rolled jumbo oats
50g hazelnuts, lightly crushed/chopped (not powdered)
1 litre good quality vanilla ice cream
Step 1) Place six small jelly moulds on a tray in the fridge. To make the jelly, dissolve the sugar in 150ml of the cider, boil for 30 seconds then remove from heat. Soak the gelatine in cold water. Once bloomed, drain, squeeze out excess water then stir into the warm syrup until dissolved. Add the remaining chilled cider then half fill the chilled moulds with jelly. Add half the blackberries and chill for an hour until part set. Top up the moulds with the rest of the jelly and blackberries and return to the fridge to set for 4 to 6 hours.
Step 2) To make the crumble, pre-heat the oven to 180°C, Gas Mark 3 and line a baking tray. Put the flour, honey, salt and sugar into a bowl and rub in the butter until it resembles coarse breadcrumbs. Mix in the oats and nuts, spread out on the baking tray and bake for 20 minutes, stirring once during the cooking time. Leave to cool then break into small pieces. Allow the ice cream to soften at room temperature for 10 minutes, then turn into a large mixing bowl and, using a wooden spoon, fold 5 tablespoons of the cooled crumble into the ice cream. Return to the freezer for 2 hours before serving. Turn out the jellies and serve with ice cream sprinkled with the extra crumble.
Looking for more recipes from Homes & Gardens? We recommend the Raspberry and rose jelly, English sparkling wine and blueberry jelly and Pink peppercorn and loganberry jelly. For all the latest from the Homes & Gardens team, follow us on Twitter and Facebook.