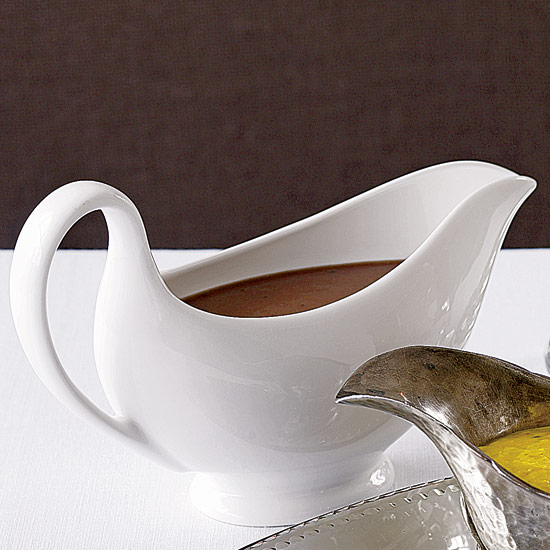 Makes 300ml

1 tbsp plain flour
2 tbsp Dijon mustard
200ml robust red wine, mixed with 100ml vegetable water
1 tbsp concentrated chicken stock, gel or liquid (try Knorr)
1⁄2 tsp each salt and ground pepper
4 tbsp redcurrant or pomegranate jelly
2 tbsp Worcestershire sauce
2 tbsp Armagnac
Step 1) Pour off all but 2 tablespoons excess fat from the roasting pan of the turkey or other fowl or game you are having. Stir in the flour and mustard together with the sediment in the pan, using
a wooden spoon. Cook until smooth, brown and bubbling.
Step 2) Add all the other ingredients at once, apart from the Armagnac. Mix, stir and cook for 1 minute over a high heat until everything has dissolved. Reduce the heat to simmering. Continue stirring and smoothing until a glossy, rich gravy results - about 2 minutes more. Remove pan from the heat, stir in the Armagnac and serve in a heated gravy boat. 
For all the latest from the team, follow us on Facebook and Twitter