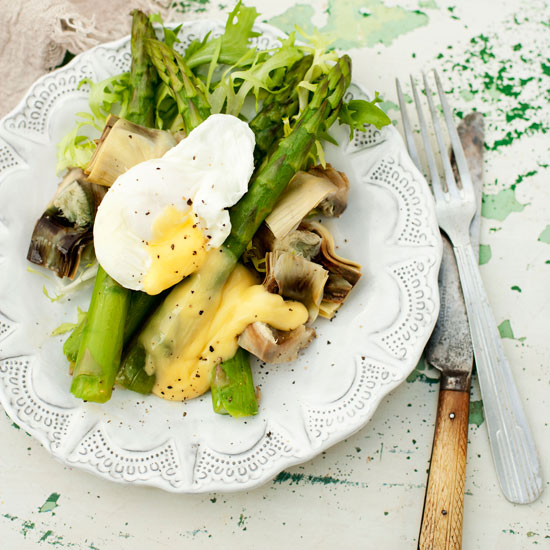 Serves 4
4 globe artichokes
1 tbsp lemon juice
16-20 asparagus spears
4 medium organic eggs
Salad to serve such as baby spinach or rocket
For the hollandaise
6 tbsps of white wine vinegar, plus extra for poaching the egg
2 bay leaves
1 tsp peppercorns
3 medium organic egg yolks
200g unsalted butter
Salt and freshly ground black pepper
Lemon juice, to taste
Step 1) Remove the artichoke stalks by twisting and snapping them off at their bases. Cut a slice off the tops to remove the dry outer tips then snap off all the leaves until you see the pale yellow leaves underneath. Put the hearts in cold water with the lemon juice until needed. Boil in plenty of water for about 20 minutes or until one of the inner leaves can be easily pulled away. Drain in a colander. When cooled, prize open and scoop out the chokes with a teaspoon. Cut the artichokes into quarters.
Step 2) Snap the stalk ends off the aparagus and cook in a frying pan of lightly salted water for 2 to 3 minutes until tender. Drain.
Step 3) To make the hollandaise, put the vinegar in a pan with the bay leaves and peppercorns and cook quickly to reduce the vinegar to about 1tbsp. Strain into a food processor and add the egg yolks. Gently melt the butter in a saucepan and strain into a jug leaving the sediment in the base of thepan. With the machine running, pour in the butter in a thin, steady stream. If the sauce gets too thick add a little hot water. Season and add a dash of lemon juice. Leave to stand while you cook the eggs.
Step 4) Have a pan of boiling water ready to reheat the vegetables. Pour boiling water into a frying pan and add a dash of vinegar. Crack the eggs, one at a time , into a coffee cup and add to the frying pan. Cook for 3 to 4 minutes until softly poached. Drain.
Step 5) Plunge the asparagus and artichokes into the boiling water for 30 seconds. Drain and arrange on salad leaves. Spoon the eggs on top and pour over a little sauce, serving the remainer separately.
Recipe by Joanna Farrow
Looking for more starter ideas? Why not try these simple and delicious goats cheese and leek souffles or these mouth-watering garlicky stuffed mushrooms.