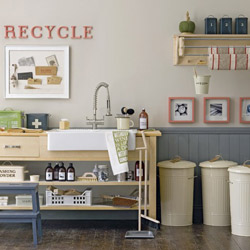 The start of spring is the perfect time to give your home a thorough clean and tackle all those household jobs that tend to get forgotten.
Clean your oven
Wearing rubber gloves, use a non-scratch sponge, dipped in white vinegar, to clean off grease and burnt-on foods, then remove the oven shelves and put them in the Oven Rack Soaking Tray, £10.99, Lakeland. Coat them with Oven Mate gel, £8.49 for 500ml, Lakeland, using the brush provided. Also brush the gel inside the oven and leave overnight. In the morning, wipe off the foam inside the oven and rinse the shelves.
Banish cobwebs and dust
Clean all those places that usually get overlooked, such as picture rails and the tops of doorframes, in a jiffy with a specialist duster. We like the range of dusters from Betterware, which has a variety of extendable dusters and dusters that can get around the most awkward of items, such as light fittings and curtain rails.