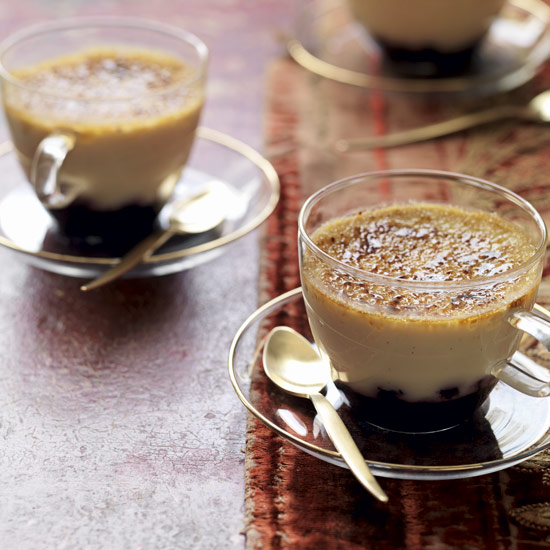 Makes 6
For the compote
400g frozen or fresh blueberries
75g demerara sugar
For the custard
500ml single cream
120ml full fat milk
100ml maple syrup (Grade B or No 2 Amber)
6 large egg yolks
To finish
6 heaped tsp demerara sugar
Step 1) Start this recipe a day ahead, beginning with the compote. Put the blueberries in a small saucepan with the sugar over a medium heat and stir often for 8-10 minutes, until the berries burst and turn jammy (the mixture should be thick, not watery). Divide among 6 x 200ml heatproof ramekins or cups and chill.
Step 2) In another pan, bring the cream and milk to a simmer. Whisk the maple syrup and egg yolks together for a couple of minutes until thickened. Remove the cream mixture from the heat just before it boils and slowly pour it into the egg yolk mixture as you whisk. Pass the custard through a fine sieve into a jug. Cool and chill for a couple of hours, if you have time.
Step 3) Pre-heat the oven to 150°C, Gas Mark 3. Stir the custard, then gently divide among the chilled ramekins or cups (pouring it over an upturned tablespoon will help to keep the compote intact). Sit the ramekins in a deep roasting tin and pour boiling water into the tin to reach halfway up the ramekins' sides. Cover loosely with foil and bake for about 45 minutes, until the custard is firm-ish at the edges yet still has a good wobble in the centre.
Step 4) Remove from the water, let cool, then chill for at least 4 hours or overnight. To finish, sprinkle the surface of each custard with a heaped teaspoon of demerara sugar and caramelise with a blowtorch until it forms a crisp, golden brown shell. Serve straightaway.