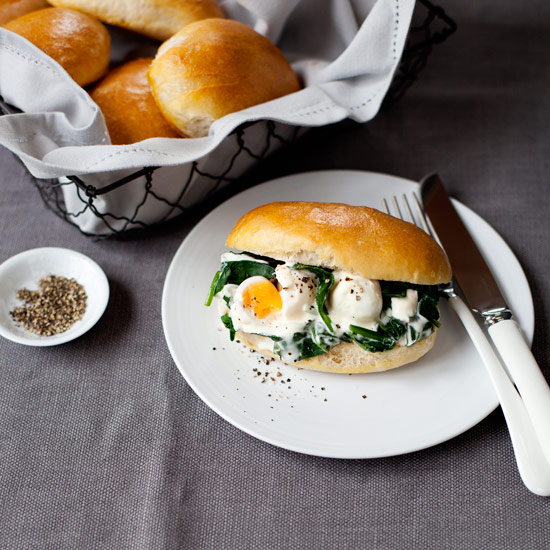 Makes 8 rolls

7g sachet fast-acting yeast
1 tsp sugar
100ml lukewarm milk
2 eggs, fork-whisked
300g strong, white bread flour (plus extra for dusting)
1⁄2 tsp salt
50g softened butter, cubed (plus extra for greasing)
For the glaze
1 egg whisked with 1 tbsp water
For the filling
12 quail's eggs, soft-boiled for 2 minutes, cooled and then shelled
250g baby spinach leaves, washed and wilted
3 tbsp crème fraîche or hollandaise sauce
4 pinches each of ground nutmeg, black pepper, salt
Step 1) To make the brioche dough, put the dried yeast, sugar, warm milk and whisked eggs in a mixer fitted with a dough hook. Mix on low for 10 seconds and high for 10 seconds or until the mixture looks even.
Step 2) Add the flour and salt with the mixer on low and continue beating on high until the dough forms a messy ball. Add the butter and beat for 1 minute more on high until the mixture is smooth and compact and the butter is well absorbed.
Step 3) Tip the dough onto a floured surface and knead for 2 minutes. Place in a lightly greased large, non-metal bowl and cover with cling film. Leave to rise in a warm place for 1 1⁄2-2 hours or until doubled in size.
Step 4) Punch down the dough and divide into 8 pieces. Hand-roll each and pat into 8 oval rolls about 8-9cm long. Place in a large, greased roasting pan and enclose the pan in a greased large plastic bag (greasing the inside so it doesn't stick). Leave to rise in the fridge (4-24 hours) or in a warm place for 1-1 1⁄2 hours until the dough doubles in size.
Step 5) Pre-heat the oven to 220°C, Gas Mark 7. Brush rolls with egg glaze. Bake for about 20-22 minutes until risen and golden, and tapping the base gives a hollow sound. When cool, slit 4 rolls lengthways and fill with the warm egg, spinach and crème fraîche. Season to taste.
Looking for more egg recipes from Homes & Gardens? We recommend Easy eggs Benedict, Scrambled eggs with piquillos and chillies and Saffron aïoli with crudités and hard-boiled eggs
For all the latest from the Homes & Gardens team, follow us on Twitter and Facebook