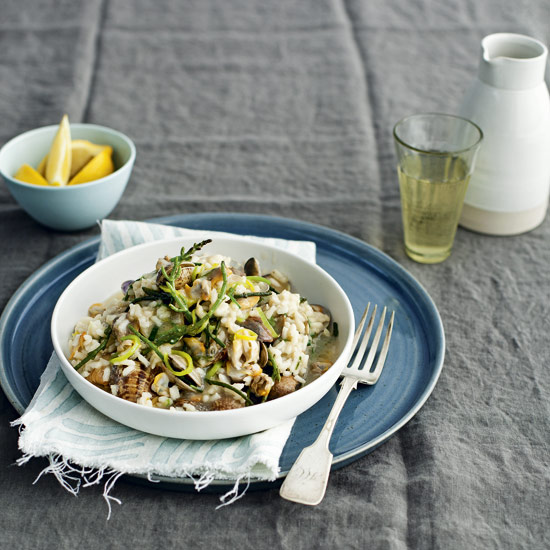 Serves 4
1kg live clams in the shell, scrubbed and rinsed
500g live cockles in the shell, scrubbed and rinsed (or 250g bottled cockles, drained)
4 baby leeks, thinly sliced rounds (white and green)
50g butter
300g Carnaroli rice (or other risotto rice)
100ml dry white vermouth
1.25 litres hot fish stock or chicken stock
Sea salt and ground white pepper to taste
2 handfuls (about 100g) washed samphire, watercress or pea shoots
1 lemon in wedges, optional
Step 1) Combine the shellfish, white leek and half the butter in a large, heavy-based pan. Cover and cook, occasionally shaking the pan, until the shellfish open, the juices are released, and the leek wilts.
Step 2) Strain through a muslin-lined colander, reserving the juices. Wash the contents of the colander under cold water to remove remaining grit and discard the empty halves of the shells.
Step 3) Melt the remaining butter in a large, heavy-based pan and add the green leek and the rice. Cook, stirring constantly, for 2 minutes. Add the vermouth and let it bubble, then pour in the shellfish juices and ladle in a third of the hot stock. Cook, stirring occasionally, over a moderate heat for 6 minutes until the rice is plumper and opaque and most of the liquid is absorbed. Add another third of the stock, repeat the cooking process, then add the final third, cooking until the rice is al dente but soupy. Season the rice to taste.
Step 4) Using tongs, remove the shellfish and white leeks from the colander. Discard the sandy cloth. Add the shellfish, white leek and samphire to the rice and cook over a moderate heat for 2 minutes to heat through, barely cooking the greens. Serve with lemon wedges, if liked.
Looking for more seafood recipes from Homes & Gardens? We recommend the New England clam chowder and Lemon spaghettic with crab.