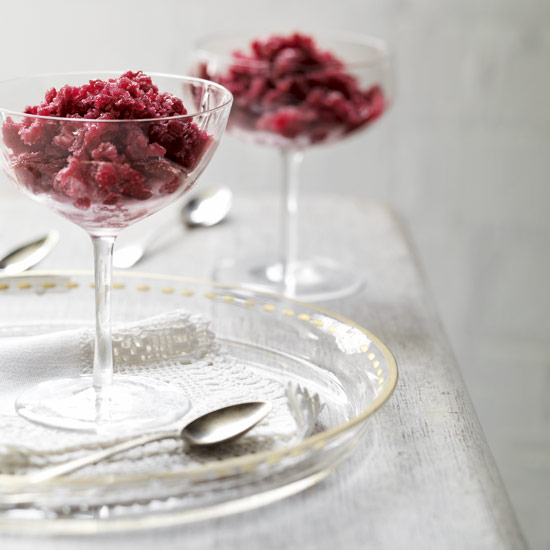 Serves 6
120g golden caster sugar
300g cranberries, fresh or frozen
300ml pomegranate juice
Step 1) Put the sugar, cranberries and 150ml water in a saucepan. Bring to the boil and simmer for about 8 minutes, stirring occasionally, until the berries begin to burst. Remove from the heat, let cool slightly, then stir in the pomegranate juice.
Step 2) Purée the mixture in a blender then pass through a fine sieve pushing it with a wooden spoon to remove any seeds and skin. Pour the liquid into a wide, shallow container and freeze for 2 1⁄2 hours. Break up the crystals with a fork and return the container to the freezer. Continue breaking up the crystals every 20 minutes until the granita has formed ice crystals with no trace of slush. Serve in chilled glasses. You can keep the granita, covered, in the freezer for a couple of days, but leave it in the fridge for 20 minutes and fork through again before serving.