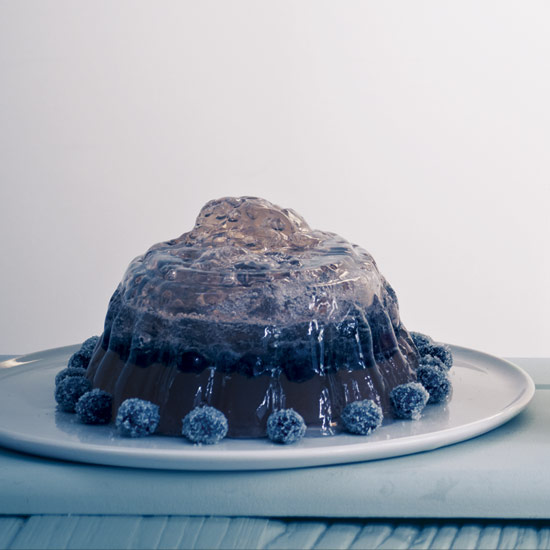 Serves 8-10
For the Jelly
7 leaves of gelatine
300g caster sugar
Zest and juice of 2 lemons
500ml English sparkling wine
300g fresh blueberries
For the Lavender Cream
375ml single cream
2 tbsp caster sugar
1⁄2 tsp lavender flowers
For the Lavender-Frosted Blueberries
300g fresh blueberries
(not frozen)
1 egg white
Lavender sugar (available at Waitrose, £3.99 for 300g)
Step 1) To make the jelly, place a 1-litre jelly mould in the fridge and soak the gelatine in cold water until soft.
Step 2) In a saucepan, dissolve the sugar in 200ml water with the lemon zest, and simmer gently for 5 minutes. Remove from the heat and add the lemon juice. Drain the gelatine leaves and stir into the hot syrup to dissolve. Leave to cool for 10 minutes, then pass through a fine sieve. Add the sparkling wine, pour half the mixture into the chilled mould and refrigerate for 3 hours. Scatter over the blueberries and add the rest of the jelly. Return to the fridge for 6 hours to set completely.
Step 3) For the lavender cream, heat half the cream with the sugar and lavender flowers in a saucepan over a low heat, stirring to dissolve the sugar. As soon as it comes to the boil, remove from the heat, add the rest of the cream and infuse for 10 minutes, then pour through a fine sieve and chill.
Step 4) To frost the blueberries, wash and dry the fruit, add to the lightly whisked egg white, then drain in a sieve. Roll the coated berries in the lavender sugar, spread on a lined tray then leave at room temperature to dry. Don't refrigerate or the sugar will dissolve. Turn out the jelly, add frosted berries and serve with the lavender cream.
Looking for more recipes from Homes & Gardens? We recommend Apple cider and blackberry jelly, Pink peppercorn and loganberry jelly and Raspberry and rose jelly. For all the latest from the Homes & Gardens team, follow us on Twitter and Facebook.