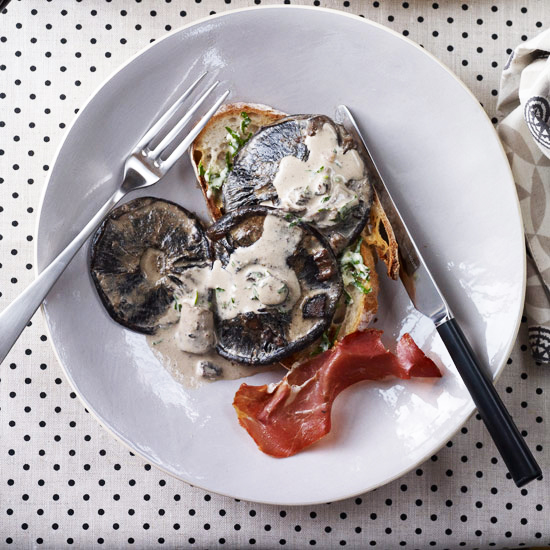 Serves 3
75g garlic butter
2 tbsp extra virgin olive oil
9-10 (550-650g) large flat field mushrooms or portobello mushrooms, stems removed
3 slices prosciutto di Parma or speck
200ml creamy milk
1⁄2 tsp sea-salt flakes
1⁄2 tsp ground black pepper
3 slices country bread
Thyme leaves, to garnish
Step 1) Pre-heat the oven to 200°C, Gas Mark 6. In a very large frying pan, heat 50g of the butter and the oil until sizzling and add the mushrooms, gill sides down. Slice and scatter in the stems. Cook over a high heat for 5 minutes.
Step 2) Meanwhile, place the ham slices across an oven rack near the top of the oven for 8-10 minutes, until they are darkened and firm. Keep warm. Turn the mushrooms over and cook for 2 minutes more. Pour in the milk and bring to a simmer, then turn the mushrooms over again and cook for 5 minutes more until tender and the liquid is reduced. Season well. Toast the bread and spread with remaining butter. Top with ham and mushrooms. Garnish with thyme.
For all the latest from the Homes & Gardens team, follow us on Twitter and Facebook