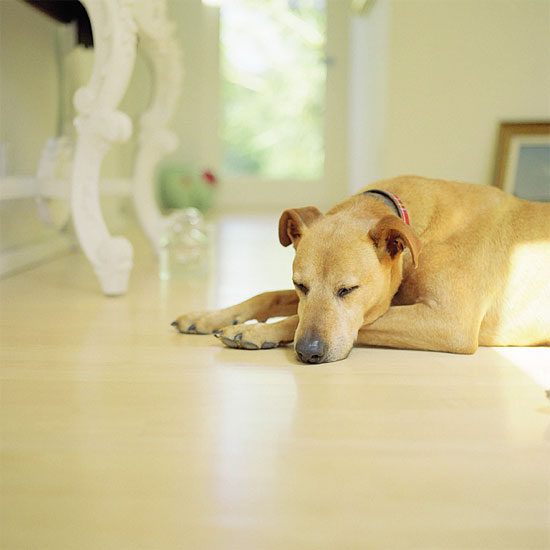 Flooring Directory (For Use With Underfloor Heating)

Amtico, (0121) 745 0800; amtico.com. Good-quality vinyl flooring suitable with UFH.
Armstrong Flooring, (01642) 768899; armstrong.com. Hardwood, ceramic, laminate and vinyl all suitable for use up to 28°C.
Broadleaf Timber, (01269) 851910; broadleaftimber.com. Certain products suitable for use with UFH.
Christina Meyer, 0845 644 6588; christinameyer.com. Sustainable wood flooring. Will advise on how to use UFH with solid-wood flooring.
Ebony & Co, (020) 7259 0000; ebonyandco.com. Large range of wood floors, all suitable for use with UFH.
Element 7, (020) 7736 2366; element7.co.uk. Its engineered collections are suitable for use with UFH.
European Heritage, (020) 7381 6063; european heritage.co.uk. Wood, ceramic, stone, terracotta and marble flooring can all be used with UFH.
Finnforest, (020) 8437 8369; finnforest.co.uk. Laminate and wood ranges for UFH.
Floorz, (01892) 678866; floorz.co.uk. Collection of engineered floors is suitable.
Gerflor UK, (01926) 401500; gerflor.com. All domestic vinyl floorings work with UFH providing the correct underlay is installed.
Junckers, 0845 230 9885; junckers.com. Wooden floors, all suitable for use with UFH.
Kahrs, (01243) 778747; kahrs.co.uk. More than 100 types of wooden floors, all suitable for use with UFH.
Karndean International, (01386) 49902; karndean.com. All vinyl flooring can be installed with UFH.
Legacy 0870 607 9080; wideboards.com. Parquet, marquetry and hardwood floors, all suitable.
Listone Giordano at Tuttoparquet, (020) 7435 8282; tuttoparquet.co.uk. Both floating floor systems and parquet flooring can be installed with UFH.
The Natural Wood Floor Company, (020) 8871 9771; naturalwoodfloor.co.uk. Its engineered collection is suitable for UFH.
Novilon, (01592) 643777; novilon.co.uk. Linoleum flooring, all suitable for use with UFH sytems.
Osmo, (01296) 481220; osmouk.com. Most of the solid-wood collection can be used with UFH.
Paris Ceramics, (020) 7371 7778; parisceramics.com. All floors suitable for UFH.
Pergo, 0800 374771; pergo.com. Laminate flooring, all suitable for use with UFH.
Polestar Flooring & Design, (020) 7266 2966; polestaruk.com. Engineered and parquet collections are suitable.
Polyflor, (0161) 767 1111; polyflor.com. All its vinyls can be used with UFH.
Quick Step, (00 32) 56 67 52 11; quick-step.com. All laminates suitable for UFH.
Richard Burbidge, (01691) 678201; richardburbidge.co.uk. Wood and laminate floors suitable for wet UFH.
Solid Floor, (020) 8747 1364; solidfloor.com. Duplex engineered boards suitable.
Timbmet Silverman, (01865) 862223; timbmet.com. Most collections fine for UFH.
Victorian Woodworks, (020) 8534 1000; victorian woodworks.co.uk. Suitable new and reclaimed timbers.
Walking on Wood, (020) 7352 7311; hardwoodfloors.co.uk. Most of its woods are suitable.
Weldon, (01636) 894838; weldon.co.uk. All hardwood flooring can be used with UFH.
Woodline Floors, 0870 840 8484; woodlinefloors.co.uk. Most collections are suitable.

Further information: The Underfloor Heating Manufacturers Association website (uhma.org.uk) has a lot of information, as well as links to companies, installers and suppliers.