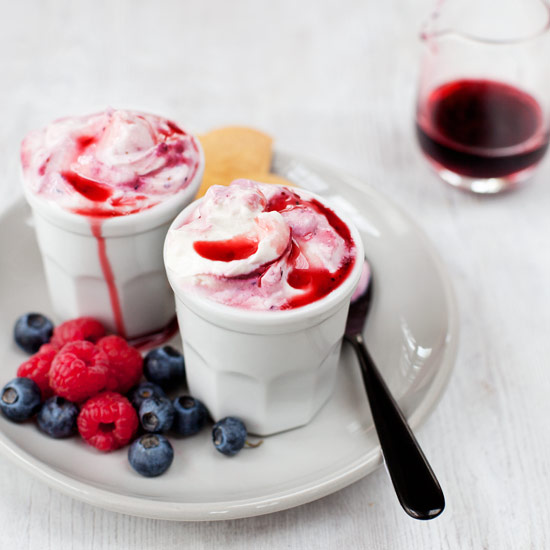 Serves 4-6
300g fresh soft cheese, such as quark or mascarpone
300g thick Greek natural yogurt
6 tbsp raspberry syrup or crème de cassis
250g fresh raspberries and 150g fresh blueberries
Step 1) Using a fork, whisk together the soft cheese, yogurt and 1 tablespoon of the syrup.
Step 2) Put 100g of this mixture into a small processor along with half the berries and 2 tablespoons of the syrup, and blitz to a rosy purée. Fold gently through the remaining cheese-yogurt mix to create a marbled effect, and chill.
Step 3) Spoon fluffy mounds of this mixture into 4 to 6 pretty little cups or bowls, and pour over the rest of the syrup or liqueur. Scatter with the remaining berries and serve.
Looking for more recipes from Homes & Gardens? We recommend Scented madeleines, Coconut drop cookies and Scrambled eggs with piquillos and chillies
For all the latest from the Homes & Gardens team, follow us on Twitter and Facebook