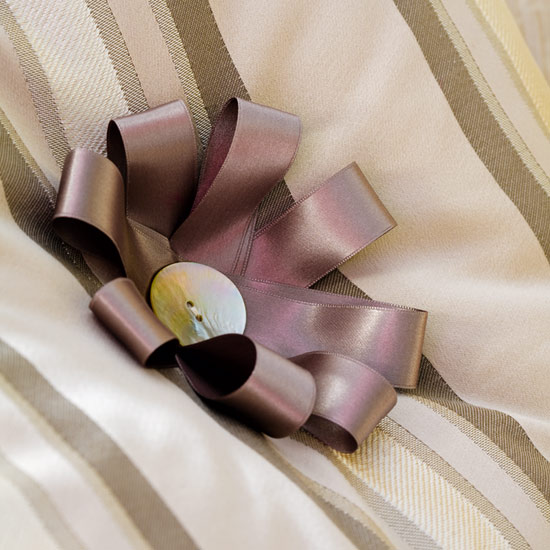 Transform your living room with handmade cushions and decorative accessories.
What you'll need
* 1.5m of 36mm-wide satin ribbon
* 35mm-diameter decorative button
* Matching thread
1) Cut four 35cm lengths of ribbon. Fold each length in half widthways and stitch across the raw ends taking a 1.5cm seam. Trim seam allowance, turn through and press open seam allowance. Repeat with the other lengths until you have four rings of ribbon.
2) To assemble the ribbon 'flower', place two rings of ribbon to form a cross shape with the seam allowances centre back. Repeat to place the two remaining rings on top diagonally, again with the seam allowances centre back. Tack in place with a couple of stitches through all ribbon layers at the centre of the flower.
3) If attaching the flower to a cushion, use an extra-long needle to stitch a decorative button to the centre of the flower - push the needle through one button hole then straight through the centre of the cushion and out the other side. Repeat to bring the needle back to the front of the cushion through the second button hole. Repeat as necessary and tie off.
Sponsored by Laura Ashley.