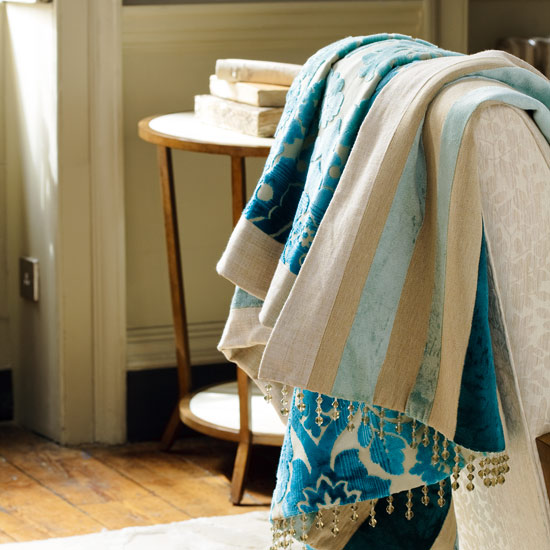 Reversible throws are both stylish and practical. Experiment with different fabrics and designs to suit your scheme.
What you'll will need
*2m of 136cm-wide floral fabric
*2m of 136cm-wide striped fabric
*Two 2m by 20cm strips of linen fabric
*3m of beaded trim
* Matching thread
1) With right sides facing and matching raw edges join one linen border strip to each long edge of the floral fabric taking a 2.5cm seam. Repeat to attach the striped fabric to the remaining long edges of the border strips, creating a ring of fabric. Press open the seam allowances and turn the fabric through so the right side is showing.
2) Smooth out the throw and arrange it so that the main fabrics are positioned centrally, the borders are folded in half along their length and each pair of border seams sits one on top of the other. Press along the folded border edges.
3) At each end of the throw press under both raw edges by 2.5cm. Cut the beaded trim in half and slip it between the two layers of the throw at one end (you will need to trim the braid to fit) so that the tape is hidden and the beads hang free (see illustration below). Pin and tack in place. Remove pins and then slip stitch closed through all three layers to hold the trim in place. Repeat to attach the second length of bead trim at the other end of the throw. Remove tacking.
Sponsored by Laura Ashley.