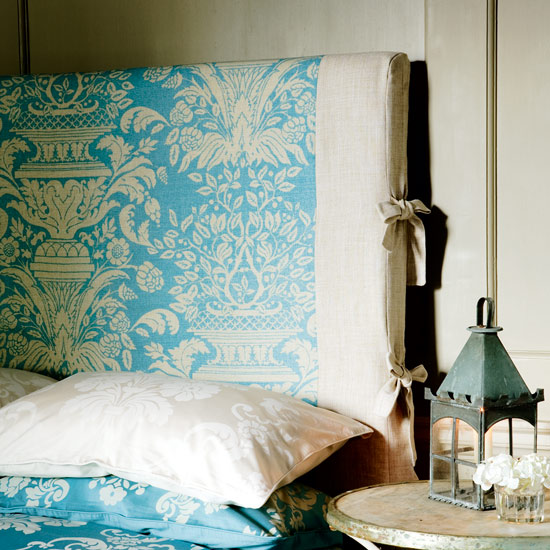 Update your bedroom with a decorative headboard. Combine beautiful plain and patterned linens to create a striking effect.
What you'll need
* Main patterned fabric
* Plain linen border fabric
* Matching thread
1) This cover is made in one bordered piece with side gussets that slips over the headboard to cover the front and back. Cut one main piece of fabric and two border linen strips to fit over the front and back of your headboard. Then cut two linen strips to the height and one-and-a-half times the depth of the headboard for the side sections. On all these pieces add 2.5cm for seams and 5cm for hems. For the ties, cut eight 13cm by 50cm strips of linen.
2) Join the two border panels to the main panel taking 2.5cm seams. Press open the seam allowances. With right sides facing, fold the cover in half lengthways and mark the fold with a pin at each side edge.
3) Cut one end of each side section into a curve and, right sides facing and matching raw edges all round, slip between the two layers of the cover, aligning the top of the curved ends with the marker pins. Pin side sections in place.
4) To make each tie, fold in half along the length and press. Stitch one short end and the long edge taking a 2.5cm seam. Clip seam allowances, turn through and press. Pin the raw-edged ends of the ties into the pinned side seams of the cover so that two ties sit on each side of the front of the cover and two sit at the same height on each side of the back (see illustration below). Stitch the side sections in place taking a 2.5cm seam and stitching the ties in place as you go. Clip the seam allowances around the curved edges of the side sections, press open all seams and turn the headboard cover through. Turn under 2cm along the bottom edge of the cover and press, then turn under again by 3cm and slip stitch the hem in place. Pull the cover on to the headboard and fasten the ties.
Sponsored by Laura Ashley.