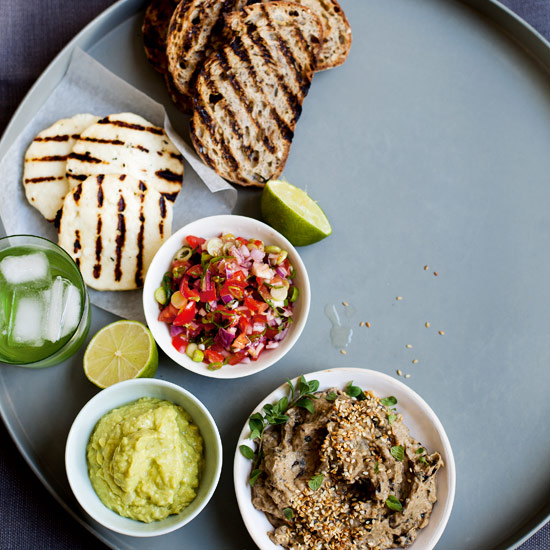 Serves 4
2 large aubergines
2 tbsp tahini
6 garlic cloves, crushed
1⁄2 tsp each salt and black pepper
2 sprigs oregano, baby basil or mint, chopped
1 tbsp toasted sesame seeds (optional)
For the salsa
150g cherry tomatoes
2 spring onions
1⁄2-1 small green chilli
Juice of 1 lime
Salt and black pepper
To serve
Guacamole, griddled halloumi slices and flat bread
Step 1) Pre-heat the grill. Fork-prick the aubergines, place on a baking sheet and grill for 15-20 minutes. Turn and grill for 30 minutes more until the skins are charred all over. Leave to cool, then drain off any juices.
Step 2) Roughly chop the aubergine and discard the stems. Put in a food processor with the
tahini, garlic and seasonings, and blitz in 6 or 8 sustained bursts to create a messy purée. Stir
in the chopped herbs and sprinkle with toasted sesame seeds, if liked.
Step 3) To make the salsa, roughly chop the tomatoes, spring onions and chilli, then blitz for 4 seconds or so in a food processor - it should still be coarse. Add lime juice and seasonings to taste. Serve the baba ghanoush and salsa with the accompaniments.
Looking for more smoked recipes from Homes & Gardens? We recommend the Smoky Chicken with Chipolte, Maltito Cocktail and Hot-Smoked Salmon with Escoffier Sauce
For all the latest from the Homes & Gardens team, follow us on Twitter and Facebook