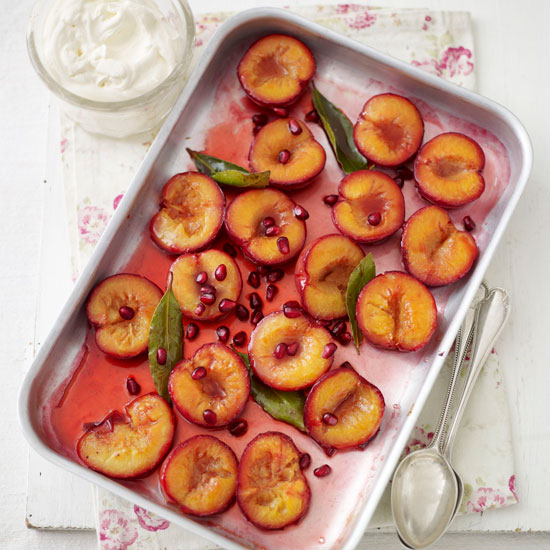 Serves 6
9 large ripe plums, halved and stoned
Several bay leaves
4 tbsps clear honey
3 tbsps lemon juice
300ml double cream
1 tbsp rosewater
2 tbsps caster sugar
Seeds from 1 small pomegranate 
Step 1) Preheat the oven to 220˚C/425˚F/Gas 7. Arrange the plums, cut sides face up, in a small roasting tin and tuck the bay leaves around them. Mix the honey with the lemon juice and spoon over the plums. Roast for 12 to 15 minutes until the plums are beginning to look baked but still retain their shape. 
Step 2) Meanwhile, pour the cream into a bowl and stir in the rosewater and sugar. Whisk until the cream just holds it shape. Transfer to a serving dish, ready to serve. Scatter the plums with pomegranate seeds. 
Recipe by Joanna Farrow
Looking for more delicious dessert recipes? Why not this mouth-watering apricot and plum strata or this apple and cinnamon slice?