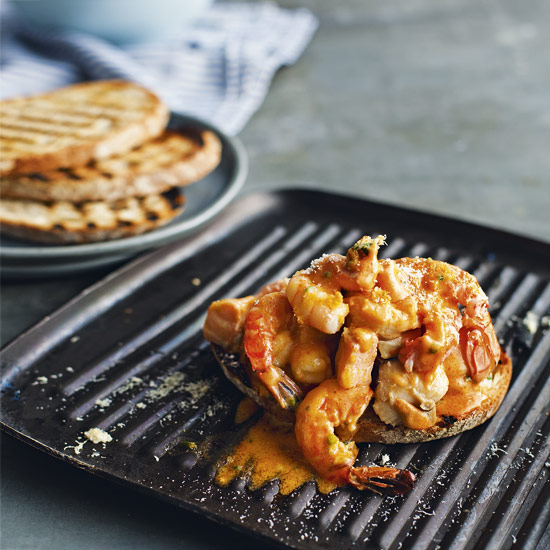 Serves 4
8 slices of sourdough bread, each 1cm thick
3 tsp mild smoked paprika
2 tbsp vodka or cognac
150-200g ready-made Hollandaise sauce or saffron aïoli (available in delis)
350g cooked seafood: jumbo prawn tail pieces, langoustine tails, halved scallops, crayfish tails, mussels, sea trout cubes
2 tbsp spring onion tops, chopped
4 tsp finely grated Parmesan
Salad leaves, optional
Step 1) Heat a heavy-ridged griddle pan and toast the bread until it is dark and crisp on both sides. Cool on a toast rack or propped upright so that it stays crisp.
Step 2) To make the filling, stir the paprika into the vodka and add it to the hollandaise sauce, the seafood mix and the spring onion tops.
Step 3) Spoon all of the filling on to 4 of the toast slices, sprinkle with Parmesan and place under
a hot grill for about 6-8 minutes, until the cheese bubbles and the filling is hot through. Serve with a second slice of toast, balanced to the side, and garnish with salad leaves, if liked.
Looking for more seafood recipes from Homes & Gardens? We recommend the Clam and cockle risotto, Lemon spaghetti with crab and Green-lipped mussel soup.