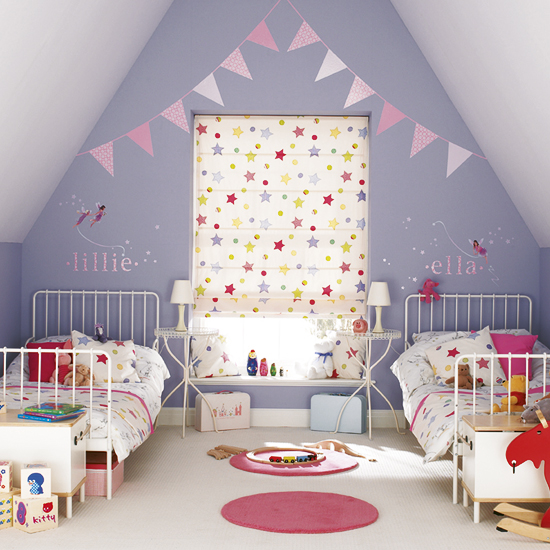 As they grow, energetic toddlers will need a place for supervised play, as well as a secure and cosy bed to encourage them to snuggle down alone at night.
Decorating
Children grow out of the latest fads as quickly as their first pair of shoes, so rather than succumbing to an entire room of Dora the Explorer, choose a neutral backdrop and introduce colour with textiles, graphic wall stickers and fun accessories. A feature wall in a bright and lively wallpaper is also an easy way to change a nusery into bedroom.
Furniture
Opt for a wardrobe with a pole that can be raised as they grow older. Secure free-standing furniture by fixing it to the wall with anti-toppling devices such as straps or fixing brackets. Open drawers can be used to climb, so use child-proof drawer latches on lower drawers.
Storage
Store toys in a variety of containers, according to their size. Combine see-through plastic storage crates, trunks and toy boxes with tubs, baskets, over-door organisers and mini-drawers. Categorise things so that they make sense to your child and arrange them so that they're easy to take out and put away.
Lighting
Dimmer switches are a boon for checking on a sleeping toddler and can be left on low for an infant who's afraid of the dark. A glowing lamp or nightlight is also a good idea, but make to keep it out of reach.
Safety
Cover electrical sockets and keep trailing cords out of reach. Childproof the windows with latches that will allow the window to open no more than four inches and keep window areas clear of furniture so that children aren't tempted to climb onto them to reach windows.
Check out our gallery for more inspiring children's rooms.