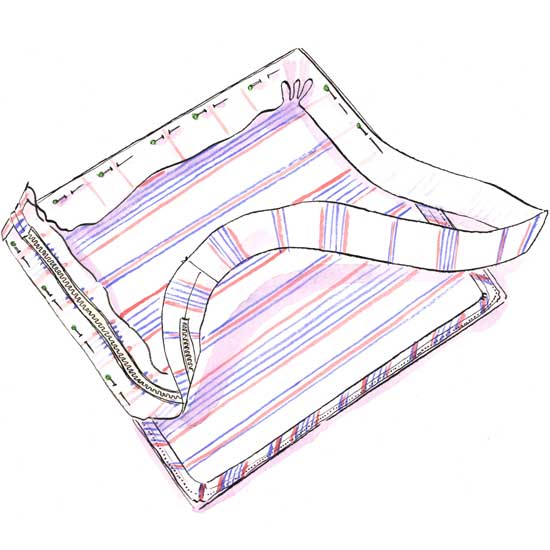 5) Take the two 43cm by 16cm side strips and, right sides facing, tack along one long edge taking a 1.5cm seam. Machine stitch along the tacking 2cm in from each end. Press open seam allowance and remove tacking. Stitch the zip in place between the two seams.
6) Right sides facing and matching raw edges, join the zipped side piece to the long side piece to form a ring, stitching a 1.5cm seam along each short edge. Press open and trim seam allowances. Open the zip.
7) To join the side strip to the cushion front, pin and tack the zipped section, right sides facing, along one edge, matching the seams at two corners. Continue to pin and tack in place all round, sandwiching the piping between the cushion front and side strip as you go. See illustration. Machine stitch taking a 1.5cm seam. Remove pins and tacking. Repeat to join the second long edge of the side strip to the cushion back. Turn through the zip and press. Remove any visible tacking along the piping.
8) To make the carry handle, fold the fabric in half lengthways, rights sides facing. Stitch the long raw edge and one short edge taking a 1.5cm seam. Trim the seam allowances and turn through. Turn under the remaining raw edges 1.5cm and press. Slip stitch the opening. Pin handle centrally to the side of the cushion opposite the zip and slip stitch with double thread at each end. Insert cushion pad.
For more great craft ideas subscribe to Country Homes & Interiors
Illustrations Michael A Hill