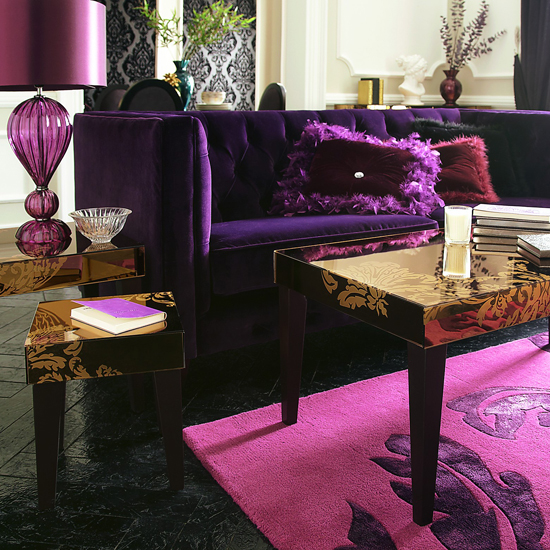 Laurence Llewelyn-Bowen was on fabulously flamboyant form at the launch of his new home collection for Littlewoods.com this week. Channel Editor Victoria popped into his boudoir for a chat about what inspired the collection. Here's what Laurence had to say...
You've got to give people something they are really going to fall in love with
Obviously [this collection] is going to be quite polarizing, plenty of people are going to say 'this is not me' and others are going to love it, I mean that's what its all about...it's about getting people to fall in love with it so they really want it.
There's a sense of The Perfect Storm at the moment
People are wanting to be able to treat their homes to something; they've got bored of the beige, they've got bored of the 'make-under' which was inspired by estate agents and property developers and they want something now that has a lot more to say for itself.'
It's about the sensuality of interior decorating
[This collection] is about touch, it's about the way that it smells, sounds, the way it looks. When it's all wooden floors and blond furniture it's a very chilly accoustic. This is the accoustic of a boudoir which I think is very, very sexy. I mean ultimately it's about sex, its about the indulgence, the sensuality, the voluptuousness.
It's all 'me'
In terms of the look, in a funny sort of way the only way you can actually describe it is 'me'. There are plenty of collections that i'll tell you have been inspired by art deco or this or that, but basically this is just me.
God bless Littlewoods
One of my favourite pieces is the coppery-pink mirrored furniture which I think is terribly new. Most retailers would have said no but I said I wanted to do pink mirrored furniture and Littlewoods said 'what a wonderful idea.'
It has a high-street fashion sensibility
Hopefully...there's nothing about this that isn't totally in step with the kind of clothes that people are wearing and the way that they are dressing themselves. I don't think that anyone has done it to this level, this high-street fashion sensibility, probably since the 1970s with BIBA. Ever since then it's been quite mealy-mouthed and it's about commerciality and 'lets sell tons and tons of beige.'
There's a whole generation that has grown up with me
Changing Rooms was 16 years ago and people remember all of that excitement and energy and we want to bring that back. You know, Kevin McCloud; he's a nice guy but [design these days] it's all so grown up...lets have some fun for goodness sake!
The Laurence Llewelyen-Bowen home collection is available now from Littlewoods.com.
Looking for more home inspiration? Why not check out our dedicated room ideas page? And don't forget to follow us on Twitter and Facebook for the latest home and decor news.