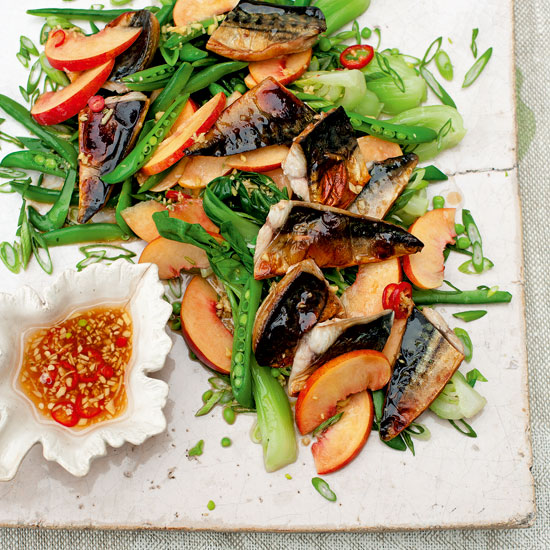 Serves 4

4 large mackerel fillets
4 tsps dark soy sauce
200g baby pak choi
200g sugar snap peas
3 nectarines or peaches, stoned and cut into slices
Small handful coriander, torn
1 bunch spring onions, trimmed and thinly sliced

FOR THE DRESSING
5 tbsps sunflower oil
1 tbsp Thai fish sauce
20g-piece fresh root ginger, 
finely chopped
1 medium-strength red chilli, de-seeded
and thinly sliced
2 tbsps light muscovado sugar
2 tbsps rice wine vinegar

Step 1) Whisk together the dressing ingredients and leave to stand.

Step 2) Cut the mackerel fillets crossways into 5cm-wide pieces. Toss in the soy sauce and place on oiled foil, skin sides face up. Cook under a moderate grill for 5 minutes or until cooked through. Drain to a plate and leave to cool, tipping the cooking juices into the dressing.

Step 3) Cut the pak choi lengthways into quarters and halve the sugar snaps, also lengthways. Bring a saucepan of water to the boil, add the vegetables, return to the boil and blanch for 30 seconds. Drain, rinse under cold running water and drain thoroughly.

Step 4) Scatter the greens on a platter. Top with the mackerel, fruit, coriander, onions and a little dressing, serving the remainder separately.

Recipe by Joanna Farrow

Find more of our favourite recipes on Country Homes and Interiors' new website. For the latest seasonal food ideas join us on Facebook and Twitter.