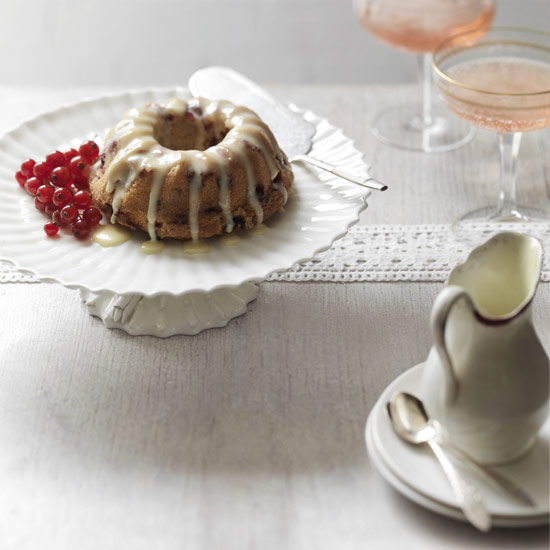 Serves 12
For the cake
(Makes 6 small cakes)
170g unsalted butter, softened, plus extra for greasing
270g self-raising flour, plus extra for dusting
225g golden caster sugar
Finely grated zest of 1 lemon
2 large eggs
1⁄4 tsp salt
1 tsp vanilla extract
150g sour cream
250g frozen or fresh redcurrants
For the glaze
100g mascarpone
50g white chocolate, chopped
A pinch of salt
3-4 tbsp milk
Fresh redcurrants, to serve (optional)
Step 1) Pre-heat the oven to 180°C, Gas Mark 4. Butter 6 x 12.5cm bundt tins, then dust with flour and shake off the excess.
Step 2) Beat the butter and sugar together until light and pale. Beat in the lemon zest, then add the eggs, one at a time, beating continuously. Stir in the salt and vanilla, followed by the flour, sour cream and redcurrants, until a stiff batter forms. Spoon into the tins and bake for about 25 minutes until golden and firm to the touch. Turn the tins upside down for a few minutes, then release the cakes from the pans and cool on a wire rack.
Step 3) To make the glaze, gently melt the mascarpone with the white chocolate and salt over a low heat, stirring often, until smooth. Remove from the heat and let cool for a few minutes, then stir in enough milk to loosen to a double-cream consistency. Spoon over the cooled cakes and decorate with sprigs of redcurrants.