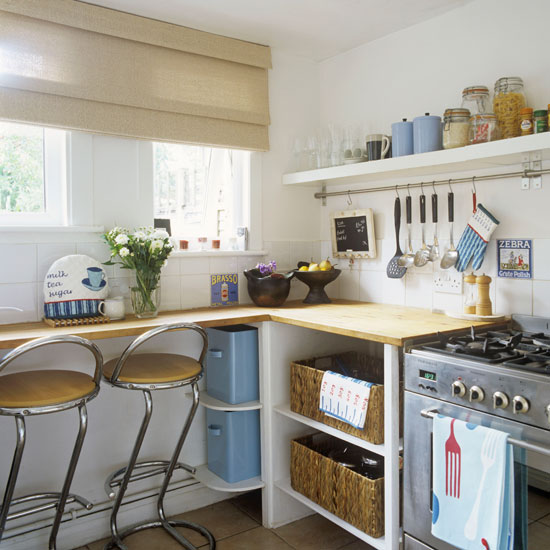 Looking for kitchen design ideas? Join our lunchtime webchat at 1pm and ask our expert for tips and advice.
Ysanne Brooks, Editor of Beautiful Kitchens magazine,will be on hand to answer all your kitchen design questions, from choosing the right layout to suit your space, to how to buy appliances. She might even have all the inside gossip on the latest kitchen trends for 2010.
Be sure to register below to receive an email reminder so you don't miss out.
All you need to do now is start lining up your questions and grab a sandwich for our lunchtime webchat - and, if you simply can't wait for inspiration, check out our gallery of almost 500 beautiful kitchens.
12:48 Housetohome: Welcome to our webchat with Editor of Beautiful Kitchens, Ysanne Brooks. Ysanne will be with us in a few minutes, so get ready with your kitchen design questions. Friday February 26, 2010 12:48 Housetohome 12:59 [Comment From Lisa,London Lisa,London: ] Hi Ysanne. Do you know what's the smallest dishwasher around? I don't want one of those counter-top ones though - just the smallest proper dishwasher. Friday February 26, 2010 12:59 Lisa,London 1:02 Ysanne: Hi Lisa If you don't want a countertop model then the smallest you'll find is a 45cm wide. These will usually have space for 10 place setting so perfectly acceptable for small families. Try Bosch, AEG Electrolu or Fisher & Paykel. Ysanne Friday February 26, 2010 1:02 Ysanne 1:02 [Comment From Dee, Shaftesbury Dee, Shaftesbury: ] Hi Ysanne, I want a colourful new look for my kitchen, but I don't want to go too crazy, so I'm planning to limit it to cabinet doors – have you seen any brightly coloured ranges on the market? (Purple if possible?) Friday February 26, 2010 1:02 Dee, Shaftesbury 1:09 Ysanne: Hi Dee Purple (or Aubergine) is right on trend at the moment but be careful using too much in a small space. Nolte do a really rich purple kitchen as do Moben and In-Toto. Lots of other companies are recognising that colour's back so it should be fairly easy to find on the high-street. Obviously, the more you spend, the more that's available to you. Some companies will even produce doors to a specific colour you want to match - a bit like the Dulux paint service. Friday February 26, 2010 1:09 Ysanne 1:09 [Comment From Fiona, Hants Fiona, Hants: ] What type of flooring would you suggest for a busy busy family kitchen? Friday February 26, 2010 1:09 Fiona, Hants 1:10 [Comment From Dee, Shaftesbury Dee, Shaftesbury: ] Great thanks i'll check them out Friday February 26, 2010 1:10 Dee, Shaftesbury 1:10 [Comment From Terry Terry: ] hi Ysanne, Friday February 26, 2010 1:10 Terry 1:11 Friday February 26, 2010 1:11 1:12 Ysanne: Hard-wearing porcelain or ceramic tiles are great for family kitchens, although try not to go for a too-light colour if you've got animals! Slate is a good option too as the dark colours hide the dirt. Go for big tiles to keep grouting to a minimum. Also, think about underfloor heating to keep things cosy. Friday February 26, 2010 1:12 Ysanne 1:12 [Comment From Dee, Shaftesbury Dee, Shaftesbury: ] Also, if I go for glossy cabinet doors, which types of worktops should I go for? Granite or matt? I've heard matt surfaces are better with wood doors? Friday February 26, 2010 1:12 Dee, Shaftesbury 1:14 Ysanne: You can get matt finishes on granite, too so don't have to have either or. Glossy surfaces hide the marks better and add light, though. I'm personally loving the latest trend for white composites. They need to be treated well but they can look stunning. Friday February 26, 2010 1:14 Ysanne 1:14 [Comment From Kaye Kaye: ] I really want to add a little something extra to my white kitchen, any tips on how to add a shot of striking colour but not too much? Friday February 26, 2010 1:14 Kaye 1:15 [Comment From natasha natasha: ] Hi Ysanne, Friday February 26, 2010 1:15 natasha 1:17 Ysanne: Fabrics are great for that. We see some wonderful kitchens with jazzy blinds and cushions. You could try adding a coloured glass splashback to give your room a bit of a zing. Try DecoGlaze. If you're on a budget pick an accent colour (again I'm loving Aubergine at the moment) and buy storage jars, small appliances and utensils in that one colour. Friday February 26, 2010 1:17 Ysanne 1:17 [Comment From natasha natasha: ] I just wanted to ask you how about wooden flooring in the kitchen. Do you recommend it and how can i protect it from water spills etc. Thanks! Friday February 26, 2010 1:17 natasha 1:21 Ysanne: Wooden flooring is great but you do have to be careful with spills and if you have a flood (Heaven forbid) they could warp badly and need replacing. I'd recommend engineered wood flooring rather than solid wood because of the moisture levels. This is made from multiple layers with a plywood base and wood veneer top. However, it's surprisingly more expensive than solid wood so don't choose it if you're after a cheaper option. Engineered wood should also come ready sealed while solid wood will need regular oiling Friday February 26, 2010 1:21 Ysanne 1:21 [Comment From Terry Terry: ] we would like to refit our kitchen, but are planning to move in 18 months time. Current trends seem to be towards modern slab fronted high gloss units; would this be a good idea right now ? Friday February 26, 2010 1:21 Terry 1:24 [Comment From Lisa, London Lisa, London: ] thanks! Hope we have enough space for that! Friday February 26, 2010 1:24 Lisa, London 1:24 Ysanne: Hi Terry I think this trend is set to continue for quite some time and there are lots of really nice variations on this theme available right now. They do say a good kitchen helps sell a house although the kitchen in my own new house doesn't make that true in my case! I'd also think about painted Shaker as it's another safe option. Friday February 26, 2010 1:24 Ysanne 1:25 [Comment From James James: ] Hi Ysanne, I would like to have a counter top that's modern and stylish but not granite (for budget reasons) It has to be hardwearing too. Got any recommendations? Thanks Friday February 26, 2010 1:25 James 1:26 Friday February 26, 2010 1:26 1:29 Ysanne: It sort of depends what your budget is. Although lots of granites can be expensive if you shop around you can find some cheaper. A solid surface material might be the way to go... Okite and Maia are quite good alternatives at around £120-150 pounds per sq m. You do have to be careful with laminates but there are some fabulous new ones on the market that are pretty hard-wearing. Try Bushboard or Axiom. The one thing I would say is spend as much as you are able to on your worktops as that's where all the wear and tear is in a kitchen. Friday February 26, 2010 1:29 Ysanne 1:29 [Comment From melissa melissa: ] Hi! any suggestions for kitchen window coverings? we have a 2metre 45cm wide window and I want some kind of privacy without making it too dark. Thanks Friday February 26, 2010 1:29 melissa 1:32 Ysanne: Brume do a fantastic line in adhesive window film and have a huge range of different designs that can be made to measure. Wooden venetian blinds are always good, too as they can be angled to let in as much or as little light as you need. Both Heal's and John Lewis provide made-to-measure services. Friday February 26, 2010 1:32 Ysanne 1:32 [Comment From Harry M Harry M: ] Everyone goes on about a 'work triangle', but what is it??? Friday February 26, 2010 1:32 Harry M 1:36 Ysanne: It's simply the relation between the three main elements that go to make up your kitchen – cooker, fridge and sink. In order to have a kitchen that works effectively you need to make sure that these three elements form a triangle and are not too far away from each other. After all, you don't want a fridge that's miles away from your cooker and a sink that's no-where near your fridge. Friday February 26, 2010 1:36 Ysanne 1:36 [Comment From Mandy Mandy: ] We've inherited a horrible old tap. Do u know how easy it is to change it? Think it's an Ikea sink and tap so is it a case of just ripping the old one out and replacing it with a lovely new one? Friday February 26, 2010 1:36 Mandy 1:36 [Comment From Terry Terry: ] thanks for your coments. Terry Friday February 26, 2010 1:36 Terry 1:39 Ysanne: It should be pretty straightforward, yes. Of course you'd have to replace like for like otherwise you'd need to drill additional holes in the sink or fill ones left behind. If your sink is from Ikea I'd recommend buying your new one from there too as they are likely to supply ones that fit perfectly into the pre-drilled holes. They have lots of great designs available. Personally, I'd still ask a plumber to do the final fitting as I'm not a confident DIYer. Friday February 26, 2010 1:39 Ysanne 1:40 [Comment From Lena, London Lena, London: ] Hi Ysanne, I am about to install a brand new kitchen and am interested to know how you would rate a kitchen from Wickes. I am also undecided about the colour. It is available in 'bone' or a green/grey colour. I am concerned about longevity and saleability in the future. Would agree cream/'bone' is the safer colour to go for? Many thanks. Friday February 26, 2010 1:40 Lena, London 1:45 Ysanne: I haven't personally had a kitchen from Wickes so I couldn't comment on their quality. Although I will say we've never had any negative feedback. I do know the exact kitchen you're talking about though as it caught my eye, too. I'm very fond of greys right now and I think the colour is one that will last. The kitchen itself is a reliable Shaker style so that's not going to go out of fashion any time soon either. Go for it! Friday February 26, 2010 1:45 Ysanne 1:45 [Comment From Patti Patti: ] Hi Ysanne, Friday February 26, 2010 1:45 Patti 1:45 [Comment From Patti Patti: ] I am in the process of buying a house with a kitchen with cupboards, worktop and flooring all different shade of orange brown wood. What is the best way of updating without buying a new kitchen? Friday February 26, 2010 1:45 Patti 1:49 Friday February 26, 2010 1:49 1:51 Housetohome: There's just enough time for a few more questions for Ysanne, so pick wisely! Friday February 26, 2010 1:51 Housetohome 1:52 Ysanne: Well, there's a cheap option or a slightly more expensive one. If cost is an issue, for the cabinetry, quite simply, paint it! It will take quite a bit of work but can give a kitchen a great facelift. For the worktops, you could try sanding them down to see the colour underneath as they tend to go orange with time. If you get to a shade you find acceptable then all you'll need to do after sanding it down is reseal it. The same goes for the wooden floor. The slightly more expensive route is to buy new doors while leaving the carcasses intact and replace the old worktops with new ones. Friday February 26, 2010 1:52 Ysanne 1:52 [Comment From Roomenvy Roomenvy: ] My kitchen doesn't get a lot of light, but I love the look of rich wooden units. How can I add subtle lighting? Friday February 26, 2010 1:52 Roomenvy 1:56 Ysanne: If adding windows really isn't an option then think very carefully about all your lighting before you start. Make sure you have good task lighting over areas where you're preparing food. Lots of companies now produce LED lights that sit under cabinets, shelves and in plinths. Overhead pendants can cause areas of shadow so opt for ceiling spots, too. In other areas, keep the rest of the room light with pale walls and floors and add a few glass fronted cabinets and even mirrored splashbacks to reflect light around the room. Friday February 26, 2010 1:56 Ysanne 1:56 [Comment From Kristy Kristy: ] Hello, if you have a completely new space for a kitchen, that has no plumbing or electrics in yet, where would you start with the design? Are there key things to take into account when planning the space? Friday February 26, 2010 1:56 Kristy 1:58 [Comment From Roomenvy Roomenvy: ] Great, thanks sooooooo much Ysanne Friday February 26, 2010 1:58 Roomenvy 2:00 Ysanne: First of all, if you've got a blank canvas I really would recommend talking to a kitchen company that provide a design service as they will take everything into account. If you're doing it yourself it's essential to make sure you get the plumbing and electrics right for your working triangle. Remember if you have a sink or oven on an island then you'll need to plan in electrics and water supply before you start. Also, if any appliances need plumbing in (American-style fridge freezers or steam ovens) you need to make sure they'll have a water supply. A great tip I had from a designer was to create templates on the floor of the room and then play about with them like a huge jigsaw puzzle! Friday February 26, 2010 2:00 Ysanne 2:01 Housetohome: Thanks so much for joining our lunchtime webchat, we hope to have Ysanne back soon for some more fab tips but in the meantime, check out our kitchen photo gallery for more inspiration. http://www.housetohome.co.uk/galleries/kitchen.html Friday February 26, 2010 2:01 Housetohome