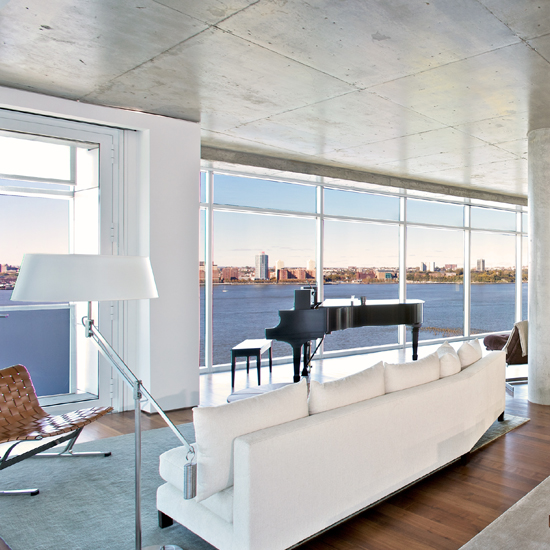 The 'Sold' signs are being taken down and a new owner is moving in to Nicole Kidman's old apartment in New York City's star-studded West Village. Nicole is probably saying goodbye to her old neighbours, Hugh Jackman and Calvin Klein, who reportedly own homes there too.
Of course, this is what we imagine, not actual fact, but what we do know is that the super-luxurious three-bedroom apartment boasts a dramatic 30-foot-wide entrance hall; a state-of-the-art chef's kitchen; a master bedroom with fitted walk-in wardrobes, a walk-in steam shower and deep Boffi bath. The décor throughout is elegant and incredibly high spec, with a seamless mixture of steel, stone and wide-plank walnut flooring. Plus, there's a south-facing terrace.
Naturally, a swish NYC condo like this one also has smart wiring, which means you can turn on and off your audio/visual and window treatments with a click of the fingers. No wonder it was sold for $16million (around £10million).
It is believed that one of the reasons Nicole wanted to sell up is because the stunning views of the Hudson river, New York Harbor, the Statue of Liberty and the New Jersey shoreline, were under threat by proposed plans of another show-stopping apartment block. But before the property was sold, Nicole was canny enough to bank a monthly rent of $45,000 (that's around £28,000) - imagine having to pay that every month? Richard Orenstein was the estate agent on the recent rental but he declined to comment.
Nicole's move is not the only celebrity property gossip we've heard. According to our Stateside sources Nicole's ex Tom Cruise is allegedly looking for super-luxurious homes just outside New York City, we wonder if he had a look around Nicole's old pad?
Love this? Read more celebrity homes stories and check out this tour of this vintage New York penthouse. And don't forget to follow us on Facebook and Twitter for the latest homes and interiors news.