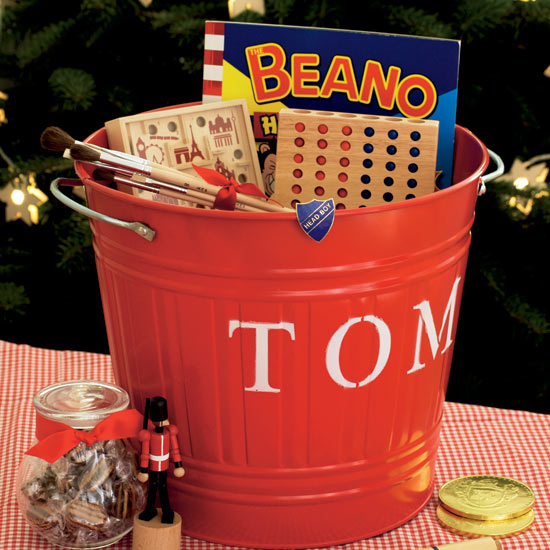 Humbugs, £5, Marks & Spencer. Giant chocolate coins, 99p each, Marks & Spencer. Wooden four-in-a-row game, £7, John Lewis. Wooden town game, £6.95, Muji. London guard, £2.95, Muji. 'Head Boy' badge, £4, Heal's. The Beano drawing book, £3.50, Marks & Spencer. Mala paintbrush set, £1.99, IKEA. Packed in Knodd bin, £8.99, IKEA.
Personalise a bucket
Use stencils to add a message or your recipient's name to the bucket
1) Choose stencils in a font you like – The Stencil Library has a wide selection, from around £10 a set. Or make your own by photocopying letters and enlarging them if necessary, then carefully cutting out.
2) Hold the stencils firmly against the bin and paint or spray each letter with craft paint. Leave to dry.