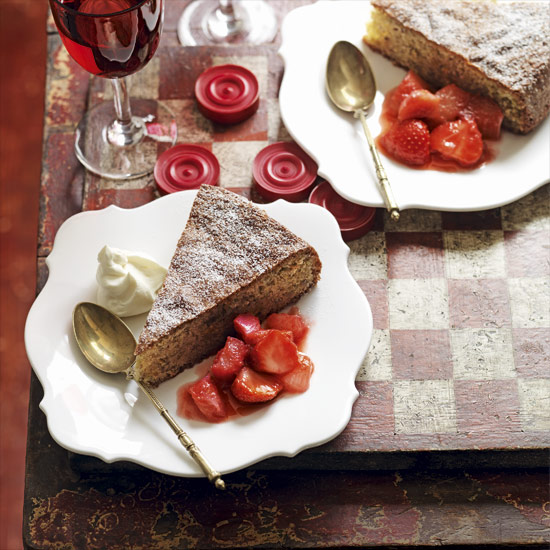 Serves 8
For the cake
150g pistachios, shelled and unsalted
200g caster sugar
3 large eggs
125ml sunflower oil
150g natural yogurt
1 tsp vanilla extract or orange flower water
100g white spelt flour or plain flour
2 tsp baking powder
Icing sugar, for dusting

For the compote
500g pink rhubarb,trimmed and cut into 2cm pieces
150g golden caster sugar
1⁄2 vanilla pod, split lengthwise
400g strawberries, hulled, halved if large
For the orange blossom cream
300ml double cream
2 tsp orange flower water
2 tbsp icing sugar
Step 1) Pre-heat the oven to 170°C, Gas Mark 3 and line the base and sides of a 23cm springform cake tin with baking parchment. Put the pistachios and 100g caster sugar in a food processor and pulse until ground but still slightly coarse.
Step 2) In a large bowl, beat the eggs and the remaining 100g caster sugar together, using an electric whisk, until pale and doubled in volume. Whisk in the oil, yogurt and vanilla or orange flower water. Sift over the flour and baking powder, then add the pistachio mixture and fold in gently. Pour into the tin and bake for 35-40 minutes, until golden and risen, and a skewer inserted into the centre comes out clean. Cool the cake in the tin, then turn out and dust with icing sugar.
Step 3) To make the compote, put the rhubarb, sugar, vanilla pod and 2 tablespoons of water in a wide-based saucepan. Cook over a gentle heat, stirring infrequently to keep the rhubarb pieces whole. After 6-8 minutes, when the rhubarb is just soft, add the strawberries and cook for a couple of minutes.
Step 4) To make the orange blossom cream, whisk the cream, orange flower water and icing sugar together until softly whipped. Serve cake slices with spoonfuls of the compote and orange blossom cream.