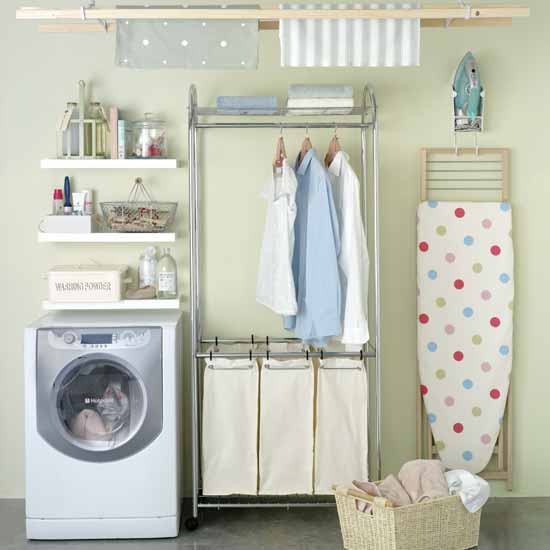 Everyone has their pet hates when it comes to doing the laundry, but by keeping your laundry room super-organised, washing and ironing will be less of a chore. Here are some great ideas for a neat and tidy space...

Pick the right machine
When investing in a washing machine look for the special programmes you'd like - options include antibacterial, Woolmark approved or delicate cycles. For the average family, look for a drum capacity of at least 5kg, but if you have a large family you may be better off with a 9kg capacity.

Sewing Kit
Make sure you've got all the essentials for clothes repair like dressmaking scissors, safety pins, needles, pins and cotton in various colours.

Iron & board storage
Fed up with your ironing board getting in the way? This great invention allows your iron to sit tidily in the slot, while the board hangs from the hooks below.

Do-it-all laundry unit
This fantastic rack has three individual bags for separating washing into colours, whites and delicates, and the hanging rail is perfect for neatly ironed garments.

Traditional airer
Keep washing out the way with an airier on pulleys. It comes with all the screws and pulleys but make sure you screw it into a sturdy joist, as the airer, plus wet washing, can be heavy.

Shop for the look
Hotpoint
Lakeland
The Holding Company
Garden Trading