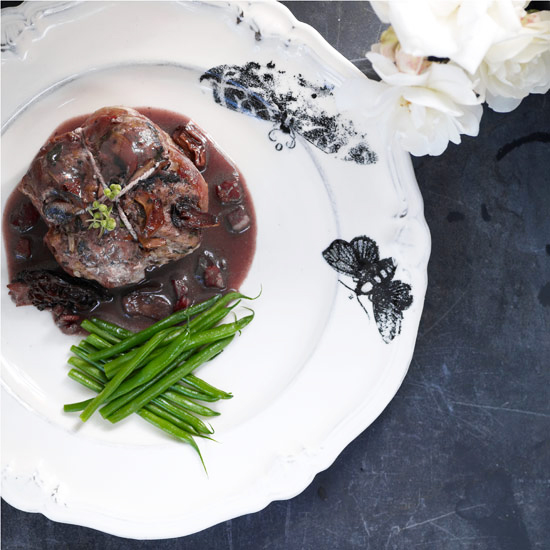 Serves 4
350g fresh woodland mushrooms
150g button or chestnut mushrooms, halved
150g bacon lardons
2 shallots, sliced
2 tbsp olive oil
4 dried morel mushrooms, rehydrated (optional)
1 small handful fresh thyme, oregano or marjoram, de-stemmed
75g homemade wholegrain breadcrumbs
500g minced pork or wild boar
1 egg, beaten
1 tsp each of sea salt, black pepper, juniper and allspice, ground together
4 slices jambon de Bayonne
150ml robust red wine
6 tbsp double cream
4 x 1m lengths of natural-fibre string
Step 1) Combine the fresh mushrooms (slicing any large ones) with the bacon, shallots and oil in a heavy-based frying pan and add the rehydrated morels, if using. Cook, stirring, over a high heat for 8 minutes until the mushrooms have wilted and the lardons are translucent. Add half the herbs and leave to cool. Drain using a slotted spoon and reserve the mushrooms and the oil.
Step 2) Pre-heat the oven to 200°C, Gas Mark 6. Put the crumbs with half the mushroom mixture into a food processor and blitz briefly to a paste. Knead this paste together with the mince, egg and spices, then form into 4 "cakes", each about 3cm thick. Pull the ham slices into halves length-wise, stretching them to wrap around the edge of each caillette. Tie the caillettes with string (as shown).
Step 3) Slice a few of the reserved mushrooms and press into the tops along with some herbs. Drizzle with the reserved oil. Set in a roasting pan and bake for 30-45 minutes or until firm, golden and aromatic. Keep warm.
Step 4) To make the sauce, pour the pan juices into the frying pan with the reserved mushroom mixture. Add the wine and cook on high, stirring, until the liquid has reduced by about a third. Add the cream and cook for 1-2 minutes or until blended. Serve the caillettes with the sauce and green beans.
For all the latest from the Homes & Gardens team, follow us on Twitter and Facebook