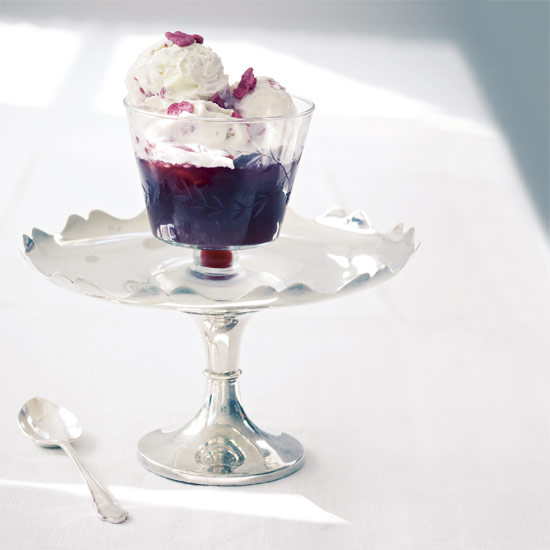 Serves 6
For the Raspberry and rose jelly
120g fresh raspberries
4 gelatine leaves
200g fresh or frozen raspberries
200g good-quality raspberry jam
80g caster sugar
3 tbsp rosewater
For the Raspberry ripple ice cream
100g fresh ripe raspberries (or, if frozen, de-frosted completely)
1 tbsp runny honey
400ml double cream
400ml full-fat milk
6 large egg yolks
180g caster sugar
To serve, crystallised rose petals (Rococo, £6.95 for 25g)
Step 1) Divide the 120g of fresh raspberries among 6 serving glasses and chill. To make the jelly, soak the gelatine in cold water to bloom until soft. In a saucepan over medium heat, bring the 200g raspberries, jam, sugar and 400ml water to a gentle boil; stir and crush the raspberries with a spoon.
Step 2) Once boiling, simmer for 2 minutes, then remove from the heat. Drain the gelatine and squeeze to remove excess water. Stir into the hot liquid until dissolved, then leave to cool for 20 minutes.
Step 3) Stir in rosewater to taste (it will taste stronger once cold). Pass through a fine sieve and pour into the chilled glasses until three-quarters full. Refrigerate for 4-6 hours to set completely.
Step 4) To make the ice cream, crush together the raspberries and honey in a small bowl and chill. In a saucepan over medium heat, bring the cream and milk to the boil.
Step 5) In a separate bowl, whisk together the egg yolks and sugar, then whisk in a ladle of the hot cream. Pour back into the hot cream over low heat and stir continuously, without boiling, for 10 to 12 minutes until thick enough to coat the back of the spoon.
Step 6) Cool before churning in an ice-cream maker and transferring to a shallow, freezer-proof dish. Pour the raspberry and honey mixture in a figure of eight over the ice cream and use a butter knife to swirl them together. Freeze for 4-6 hours before serving. To serve, add ice cream to each jelly and decorate with rose petals.
Looking for more recipes from Homes & Gardens? Looking for more jelly recipes from Homes & Gardens? We recommend the Strawberry and clotted cream jelly, Apple cider and blackberry jelly and Buttermilk pudding. For all the latest from the Homes & Gardens team, follow us on Twitter and Facebook.