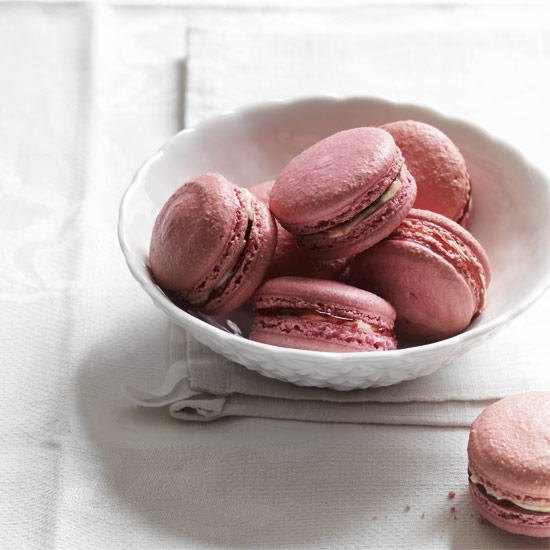 Makes 15
120g icing sugar
100g ground almonds
80g egg white (from 3 large eggs), plus up to 10g extra
60g caster sugar
Red food colouring
For the filling
100g cream cheese
3 tbsp icing sugar
Finely grated zest of 1 lemon and 1 tsp juice
60g seedless raspberry jam
Step 1) Line 2 large baking sheets with baking parchment. Put the icing sugar and ground almonds in a food processor and blitz until finely ground but not becoming oily. Sift the mixture twice, discarding any almond pieces that won't fit through the sieve.
Step 2) Whip the egg white with an electric whisk until soft peaks form. Continue whisking as you add the caster sugar, 1 tablespoon at a time, for about 2 minutes, until the meringue is thick and glossy. Add enough food colouring to turn the meringue pink and whisk to combine. Fold in the almond mixture in 2 batches, using a large metal spoon or a spatula. Fold in enough of the extra (unwhipped) egg white to loosen the mixture so that it slides slowly, like molten lava, when the bowl is tilted.
Step 3) Spoon into a piping bag fitted with a plain, 1cm nozzle and pipe 30 x 3cm rounds onto the baking sheets, leaving a 2cm space between each. Bang the trays down sharply a couple of times to release air bubbles. Set aside for 1-2 hours until a rubbery crust forms on the macaroons (test by gently prodding one); the crust encourages them to form a "foot" around the base as they bake. Pre-heat the oven to 150°C, Gas Mark 3. Bake the macaroons for 12-16 minutes, until crisp but not coloured, swapping the positions of the trays halfway through. Set aside on the trays to cool completely.
Step 4) To make the filling, beat the cream cheese, icing sugar, lemon zest and juice together. Peel the macaroons from the paper and pair up similar sizes. Spread 1 half thinly with raspberry jam and the other half more generously with the cream cheese mixture. Sandwich together and repeat until all the macaroons are filled. They will keep in the fridge for up to 5 days or freeze for up to a month.