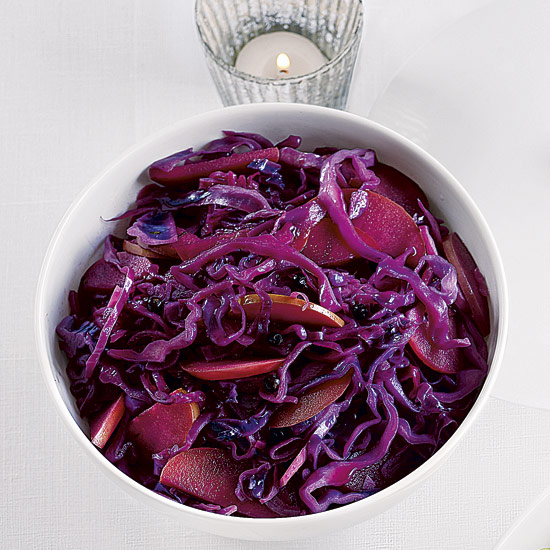 Serves 8-10
600-750g red cabbage
2 red onions, sliced
1 red-skinned apple, quartered, cored and sliced
2 garlic cloves, chopped
12 juniper berries, lightly crushed
60ml water, stock or red wine
100g redcurrant, pomegranate or guava jelly, chopped
3 tbsp sherry vinegar
1 tsp each salt and cracked black pepper
Step 1) Halve the cabbage, then shred finely, cutting crossways. Combine with the onions, apple, garlic, juniper berries and liquid in a large pan. Bring to the boil, then reduce the heat, cover and simmer for 5-8 minutes.
Step 2) Stir in the jelly and vinegar and cook over a high heat, tossing and mixing until the cabbage is glossy and coated. Stir in the salt and pepper just before serving, but not before as it will dull the colour. Serve hot, warm or cool.
For all the latest from the team, follow us on Facebook and Twitter