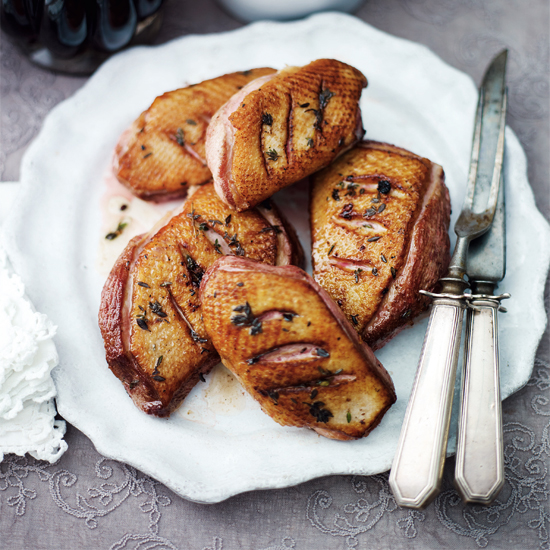 Serves 6
A few sprigs thyme
3 to 4 juniper berries, crushed
2 tbsps olive oil
6 duck breasts
150ml red wine
2 tbsps redcurrant jelly
Salt and freshly ground black pepper

Step 1) Pick the leaves off the thyme and put in a sealable container large enough to hold the duck. Add the juniper berries and olive oil
Step 2) Use a sharp knife to slice diagonally through the duck fat three or four times. Put the duck in the container and leave in the fridge to marinate for at least 30 minutes and up to 4 hours.
Step 3) Preheat the oven to 200°C/400°F/Gas 6. Heat a large frying pan and fry the duck breasts, in batches of three, fat side down in the pan until dark golden. A lot of the fat will come out of the duck so tip it out, save it in a jar and use to make great crispy potatoes.
Step 4) Turn the duck over and briefly cook the other side. Transfer to a roasting tin and roast in the oven for 15 minutes.
Step 5) Take the duck breasts out of the tin and leave to rest. Drain off all but about 1 tbsp fat from the tin, leaving behind the juices. Put the tin on the hob and add the red wine and redcurrant jelly and season. Bring to the boild and simmer for around 3 to 4 minutes until syrupy.
Step 6) Serve the duck breasts whole - or sliced if preferred - with the sauce drizzled over.
Recipe by Emma Marsden
Looking for more delicious recipes? Why not try Country Homes & Interiors' simple smoked trout pate with beetroot relish, and for dessert, their mouth-watering ginger panna cotta?