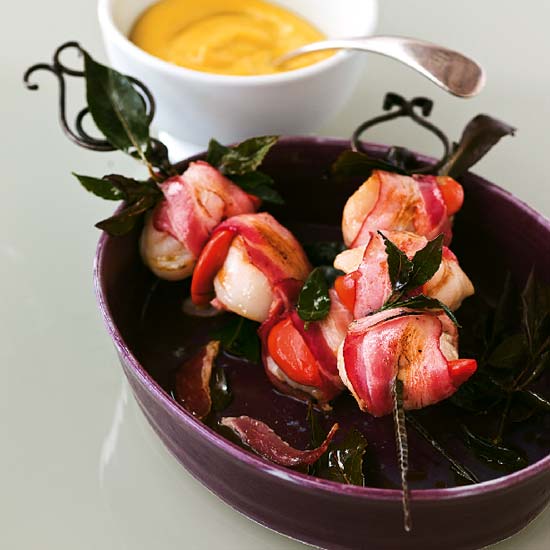 This rich starter can be flash-roasted in minutes, the pancetta basting the scallops as they cook. Extra mayonnaise will keep for ten days if refrigerated.

SERVES 6
For the mayonnaise: makes 550ml
2 tsp rock salt
2 pinches saffron stigma
2 garlic cloves, crushed
1 whole egg plus 2 yolks at room temperature
Juice of 1 lemon
250ml first cold-pressed extra virgin olive oil
For the brochettes
18 slices smoked, thin-cut pancetta (Italian bacon)
18 prepared fresh scallops, with roes
6 fresh bay leaf sprigs
A little olive oil for greasing and drizzling

To make the mayonnaise, pound the salt, saffron and garlic to a paste with a mortar and pestle. Put in a small bowl with the whole egg and egg yolks, and whisk with a hand-held electric whisk in bursts. Add 1 teaspoon of lemon juice and, still whisking, gradually drizzle in the oil in a fine stream. After 200ml, add 2 more teaspoons of juice and continue adding oil, as before, until a dense golden emulsion forms. Whisk in the remaining lemon juice. Refrigerate.

Pre-heat the oven to 200°-C, Gas Mark 6. Wrap a slice of pancetta around each scallop and push three on to a skewer or wetted satay stick, adding a bay sprig at one end. Put the skewers into a foil-lined roasting pan and drizzle over some olive oil. Roast 5-6 minutes or until the pancetta is fragrant and the scallops are firm. Serve each brochette with a spoonful of mayonnaise.