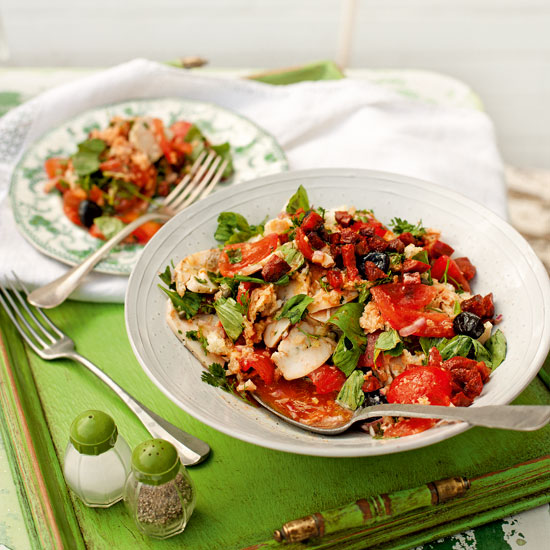 Serves 4

700g well flavoured vine tomatoes
250g-piece chorizo sausage, finely diced
1/2 ciabatta loaf
3 to 4 small smoked chicken breasts
Plenty pitted black olives
1 large shallot, finely diced
2 tbsps capers, rinsed and drained
125ml extra-virgin olive oil
1 plump garlic clove, crushed
5 to 6 tsps red wine vinegar
Salt and freshly ground black pepper
Small handful each of parsley or chervil and basil, torn into pieces

Step 1) Cut the tomatoes into quarters and scoop the seeds and pulp into a sieve set over a bowl. Press the pulp with the back of a spoon to squeeze out the juice (if the pulp is quite firm you can whizz it in a food processor first).

Step 2) Fry the chorizo sausage in a dry pan until deep golden and turning crisp. Tear the ciabatta into small pieces. Thinly slice the chicken. Put the bread, chicken, olives, shallot and capers in a salad bowl with the tomato pulp and seeds.

Step 3) Whisk the strained tomato juice with the oil, garlic and 5 tsps of the vinegar so the dressing is tangy but not too sharp. Add a dash more vinegar if necessary. Season with salt and plenty of freshly ground black pepper. Pour the dressing over the salad about 15 minutes before serving. Scatter with the chorizo and herbs and stir in lightly.

Recipe by Joanna Farrow

Find more of our favourite recipes on Country Homes and Interiors' new website. For the latest seasonal food ideas join us on Facebook and Twitter.