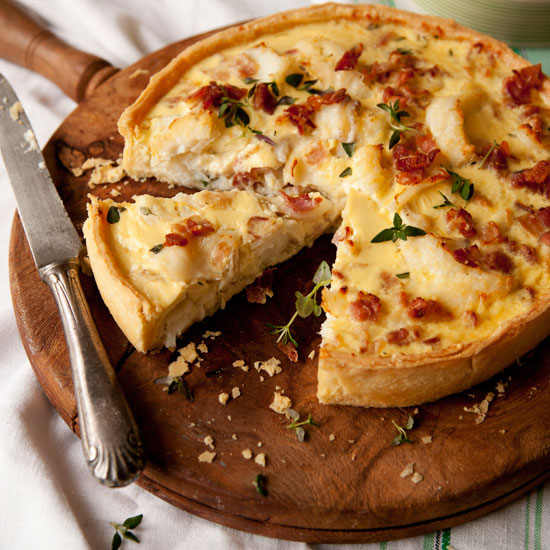 Serves 6
For the pastry
175g plain flour, plus extra for dusting
115g lightly salted butter, very cold
1 medium organic egg yolk
For the filling
600g undyed smoked haddock fillet
200ml full-fat milk
2 tbsps chopped thyme, plus extra to serve
1 tbsp vegetable oil, for frying
150g smoked streaky bacon, chopped
150ml single cream
Finely grated zest of 2 lemons
4 medium organic eggs
Salt and freshly ground black pepper
40g extra mature Cheddar, grated
Step 1) Put the flour in a bowl. Grate in the butter, stirring frequently. Mix the egg yolk with 2 tbsps ice cold water and pour into the bowl. Stir with a palette knife to mix and use your hands to bring the mixture into a dough (add more water if needed). Cover in clingwrap and chill for 30 minutes.
Step 2) Preheat the oven to 200˚C/400˚F/Gas 6. Roll out the dough on a lightly floured surface and use to line a 23cm loose-base tart tin with a 4cm depth; trim excess. Line with greaseproof paper, fill with baking beans and bake blind for 15 minutes. Remove paper and beans, and bake for a further 5 minutes. Reduce the oven temperature to 180˚C/350˚F/Gas 4.
Step 3) Cut the haddock into 3 or 4 pieces and poach gently in the milk in a covered saucepan for about 8 minutes. Drain and reserve the milk. Break fish into chunks (discarding skin and any bones) and scatter into the case. Sprinkle with thyme. Wipe the base of a frying pan with a paper towel dipped in the oil and fry the bacon until just crisp. Scatter half into the case.
Step 4) Beat together the cream, lemon zest, eggs, reserved milk and seasoning and pour into the case. Scatter with the remaining bacon and Cheddar cheese. Bake for around 40 minutes until the surface is golden and set. 
Recipe by Joanna Farrow 
Looking for more gorgeous creations from Country Homes & Interiors? Check our their last craft ideas and click here for more pastry recipes.