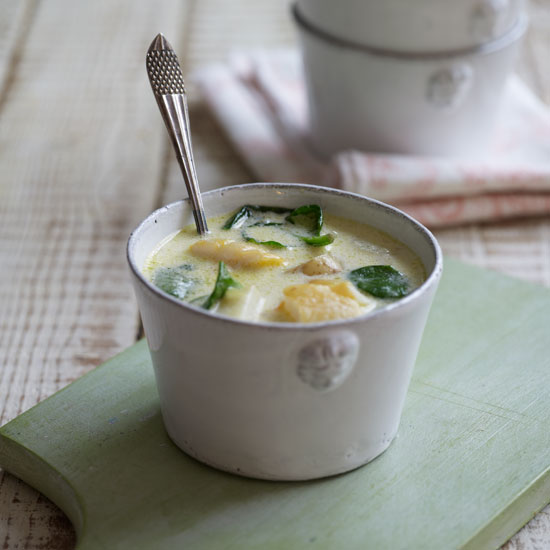 Serves 4

25g butter
1 tsp olive oil
1 onion, roughly chopped
350g new potatoes, cubed
1 litre hot chicken or vegetable stock
Salt and freshly ground
black pepper
300g smoked haddock, skinned
100ml double cream
100g baby spinach leaves

Step 1) Melt the butter in a pan with the oil. Add the onion and cover. Turn the heat down low and sweat the onions gently for around 15 minutes, stirring and adding a splash of water every now and then. Add the potatoes and mix with the softened onions. Cook for 5 minutes.

Step 2) Pour over the stock, season and bring gently to the boil. Simmer for 15 to 20 minutes until the potatoes are tender. Put a generous ladle of the mixture into a food processor and whizz until smooth. Stir into the soup in the pan.

Step 3) Run your fingers over the smoked haddock to check for any bones and remove and discard any that you find, then cut the fish into chunks. Add to the pan, season with pepper, and continue to simmer for 5 minutes until just cooked.

Step 4) Stir in the double cream and baby spinach, allowing the leaves to just wilt, then serve.

Recipe by Emma Marsden

Find more of our favourite recipes on Country Homes & Interiors' new website. For the latest seasonal food ideas join us on Facebook and Twitter.