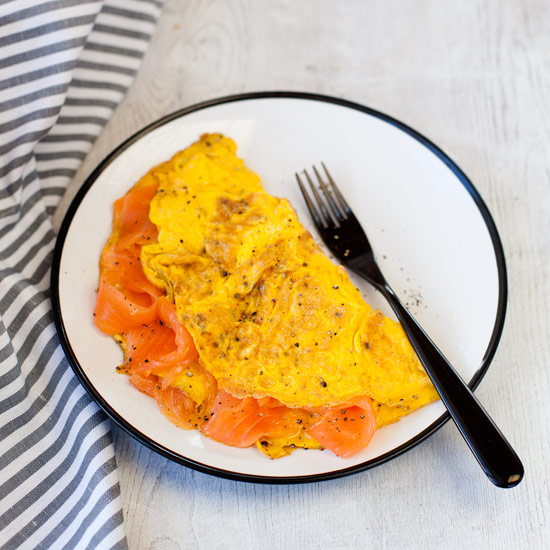 Serves 3 (generously)
9 large eggs
4 tbsp milk
1⁄2 tsp sea-salt flakes
1⁄2 tsp cracked black pepper
30g unsalted butter, cubed
150-250g smoked wild salmon, chopped or torn
For the dill Sauce (optional)
2 tbsp horseradish sauce
100ml crème fraîche or other thick cream
2 tbsp vodka or pastis
2 tbsp scissor-snipped fresh dill
Step 1) Whisk the eggs, milk, salt and pepper in a bowl or jug with a fork. Melt the butter in a
25cm diameter frying pan over a high heat, pour in the egg mixture and cook, still on high, using a fork to puncture any big bubbles. Push the set edges in and tilt the pan regularly to let the uncooked egg trickle down. When the centre is almost set but still baveuse (runny), scatter in the smoked salmon towards the edges.
Step 2) Flip the omelette in half and slide on to a large, warm serving plate. Keep it hot in a warm oven. To make the sauce, fork-whisk together the horseradish, crème fraîche, vodka and dill. To serve, slice a portion of the omelette and then drizzle with a little dill sauce.
Looking for more recipes from Homes & Gardens? We recommend Cheese, Marmite and parsely ring, Spicy shellfish tartlets and Lemon spaghetti with crab
For all the latest from the Homes & Gardens team, follow us on Twitter and Facebook