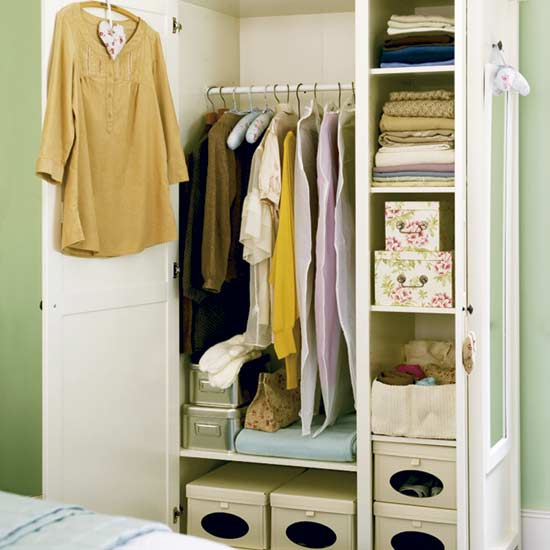 Drawers
* Use a cutlery tray to divide the inside of drawers into sections - it'll keep make-up, toiletries and jewellery in order and stop them from rattling around when you open and close the drawers.
* Don't get in a tangle - keep socks, underwear and belts separate by buying expandable drawer organisers that have a pocket for every item.

* Store folded t-shirts, vests and jumpers in bottom drawers as they're usually deeper. Keep individual stacks separate with plastic drawer dividers.
Hanging rails
* Hang clothes more efficiently. Group long hanging items such as coats and dresses together on one section of the rail and shirts, skirts, trousers and shorter items on another section.
* Think about what you'll be storing and position the hanging rail accordingly. It will need to be positioned at least 110cm from the floor for longer items (or measure your longest item and add 5cm), or think about fitting double rails if your wardrobe consists mainly of shorter items such as skirts and shirts - the higher rail will need to be positioned at least 90cm above the lower one.
* Allow enough depth for hangers by fitting your rail at least 30cm from the back of the wardrobe. Consider replacing wooden rails with metal ones, as hangers glide along them more easily.

Shelving

Add shelves above the rail in ceiling-height wardrobes: one for folded clothes and accessories you often use and one above that for items you need less often, like spare duvets, ski wear or out-of-season clothes.
Floor space
Store shoes at the bottom of the wardrobe on slanted shelves or racks - you'll fit more in if you alternate the shoes toe-in and toe-out.
Keep shoes dust free by storing them in boxes if you have lots of free floor space. Their original boxes (labelled, or with a photo of the shoes on the front for easy identification) will do, or buy clear boxes.
Doors
Use the backs of doors by fixing a rack for belts, scarves or ties. Hooks are handy, too, but don't hang precious garments as they can stretch out of shape.