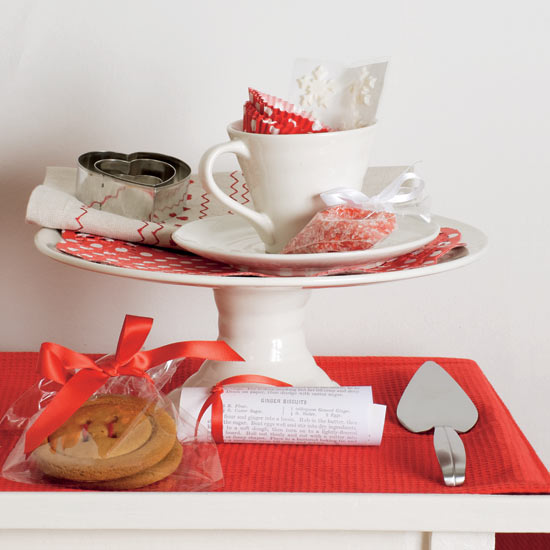 Delikat cake slice, £3.59, IKEA. Cobble teacup, £2, ASDA. Cobble saucer, £1.50, ASDA. Retro red spot cake cases, £1.50 for 72, Dotcomgiftshop. Hearts napkin, £3, John Lewis. Retro red spot doilies, £2.95 for 72, Dotcomgiftshop. Sparkling sugar, £3.99, Cake Craft Shop. White chocolate snowflakes, £1.70, Cake Craft Shop. Metal heart cutters, £1.69 for three, Cake Craft Shop. Packed in Cake stand, £10, ASDA.

Bake biscuits
These button-shaped biscuits are sure to be a hit – makes around six.

1 Combine 125g (4½oz) softened butter with 125g (4½oz) soft brown sugar.
2 Sift in 250g (9oz) plain flour, 1tsp baking powder, 2tsp ground ginger and 1tsp mixed spice. Mix well then add 3tbsp golden syrup.
3 Mix then knead to a dough by hand. Wrap dough in clingfilm and refrigerate for 30 min. Preheat the oven to 190°C, 375°F, Gas 5.
4 Roll out the dough on a floured surface to a depth of 5mm. Cut out with a round cutter, using a smaller cutter to make an indent for the button edge. Make four holes in the centre with a chopstick or similar – slightly larger than you want them, as they will close up during cooking.
5 Bake for 15 min. Cool, then thread wool though the holes. Pack in a plastic bag.