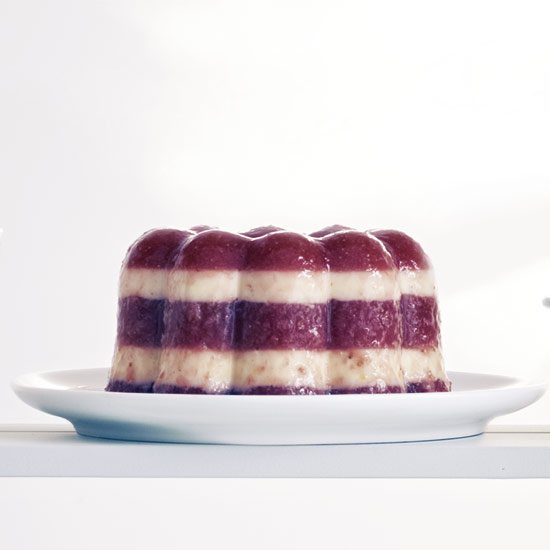 Serves 8
For the jelly
6 leaves of gelatine
150g very ripe strawberries, hulled
and washed
200g caster sugar
50ml liqueur de fraises des bois (wild strawberry liqueur)
240ml clotted cream
240ml full-fat milk
The seeds from 1
vanilla pod
For the ice cream
500g fresh ripe strawberries,
hulled and washed (or use frozen)
125g caster sugar
300ml double cream
150ml full-fat milk
Step 1) To make a two-layer jelly, soak 2 gelatine leaves in cold water to bloom.
Step 2) Blend the strawberries and 50g caster sugar to a smooth purée and heat until just boiling. Simmer for 1 minute, then remove from the heat. Drain the gelatine and squeeze to remove the excess water. Stir into the strawberry purée and add the liqueur. Pour into a chilled mould and leave to set for 2 hours.
Step 3) To make the white layer, soak the remaining 4 gelatine leaves in cold water. Bring the cream, milk, remaining sugar and vanilla seeds to a gentle simmer over medium heat. Stir to dissolve the sugar, let it come to the boil, then simmer for 1 minute. Remove from the heat and stir in the drained gelatine leaves. Pass the mixture through a fine sieve and set aside to cool while the strawberry jelly is setting (the cream mixture should cool till nearly cold but not set). Pour the cooled cream into the mould and chill for 4 to 6 hours until set.
Step 4) To make a striped jelly, halve both recipes and make in 2 batches, allowing the first to set completely before starting the second. For the ice cream, blend the strawberries and sugar. Add the cream and milk, pulse for 30 seconds, then churn in an ice-cream maker. Transfer to an airtight container and freeze for 2 hours. Turn out the jelly and serve with the ice cream.
Looking for more recipes from Homes & Gardens? We recommend English sparkling wine and blueberry jelly, Raspberry and rose jelly and Buttermilk pudding. For all the latest from the Homes & Gardens team, follow us on Twitter and Facebook.