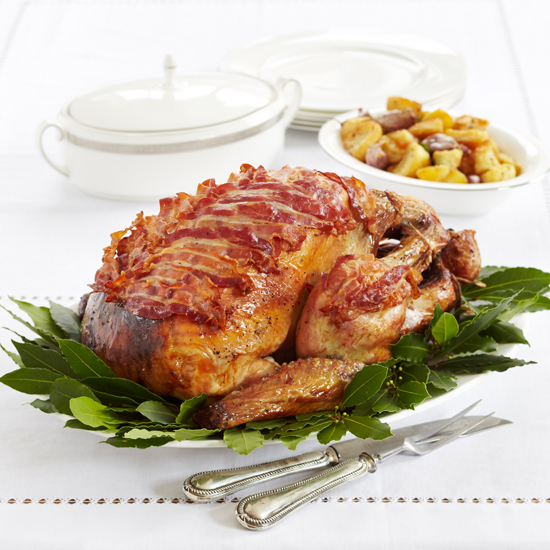 Serves 8
4-5kg (9-11lb) turkey
100g butter softened
1 egg
150g breadcrumbs
Handful of flat leaf parsley, chopped
Handful oregano, chopped
450g (lb) cooked and peeled chestnuts, chopped
3 oranges
Olive oil
2 onions, peeled and chopped
6 cloves of garlic, peeled and finely chopped
150g (5 1/2 oz) smoked pancetta
1 tbsp plain flour
200ml (7fl oz) red wine
2 tbsp cranberry sauce
Step 1) Preheat the oven to 180°C, 350°F, Gas Mark 4. Put the turkey upside down in a roasting tin.
Step 2) To make the stuffing, cream the butter in a large bowl, and season. Beat in the egg, then the breadcrumbs and herbs. Stir in the chestnuts with the zest and juice of the oranges. Heat a little olive oil in a pan and fry the onion and garlic for 3-4 min until soft but not brown. Leave to cool, then add to the stuffing mixture. 
Step 3) Push as much stuffing into the neck cavity of the turkey as you can get in. Fold the bird's skin flap over the stuffing and secure in place with cocktail sticks. Push the rest of the stuffing into the body cavity. Tie the legs together with string (if not already done) and drizzle olive oil over the whole bird. Season well. Pour 300ml (10 fl oz) water into the roasting tin and roast the turkey for 3hrs 30min.
Step 4) Increase the oven temperature to 200°C, 400°F, Gas 6. Remove the turkey and turn it over. Cover the skin with the pancetta and return to the oven for 30min or so, until browned. Pierce the sides with a skewer - it's done when the juices run clear.
Step 5) Transfer the turkey to a warm serving dish, wrap with foil and leave to rest for 1hr 30mins.
Step 6) To make the gravy, sieve the turkey juices in a jug - you should have at least 300 - 400ml (10-14fl oz). If not, top up with water. Skim off the fat.
Step 7) Put the roasting tin on the hob over a low heat and add the flour. Stir round the tin, scraping off the brown crispy bits. Add the wine and stir vigorously until it thickens. Add the cranberry sauce and turkey juices and continue to simmer, stirring continuously until you have a smooth gravy. Sieve and season, if necessary, and serve.   
Recipe by Dagmar Vesely
Looking for more Christmas recipe ideas? Why not take a look at this fool-proof Christmas pudding recipe or try these mouth-watering paupiettes of salmon as a starter?