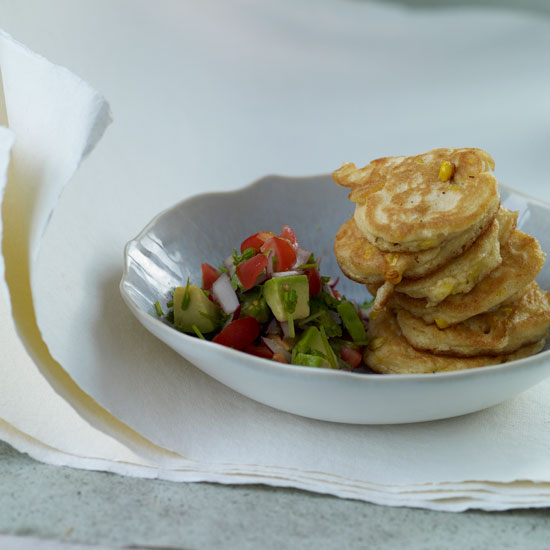 Serves 4, Makes 20-22
For the fritters
110g plain white flour, sifted
2 tsp baking powder
1/4 teaspoon salt
2 medium eggs, separated
120ml milk
326g can sweetcorn kernels, drained and liquid discarded
Virgin olive oil, groundnut or grapeseed oil

For the salad
1 avocado, quartered, pitted and skinned
1 tbsp sweet chilli sauce
1/2 lemon, squeezed
100g red cherry tomatoes, quartered
80-100g watercress and/or rocket leaves

Step 1) Pre-heat the oven to 180°C, Gas Mark 4. Combine the sifted flour, baking powder, half the salt, yolks of both eggs and milk in a deep bowl or measuring jug and, with a hand-held electric whisk, beat to a thick consistency.
Step 2) In a medium bowl, whisk the egg whites with the rest of the salt to stiff peaks, using clean, dry blades. Fold this with the kernels into the batter, using slow, broad strokes. Pour in enough oil to cover a large frying pan base by 0.5cm and heat until very hot.
Step 3) Measure out the fritter mix in 30ml spoonfuls into the hot oil. Cook for 2 minutes over medium heat or until bubbles form on top, then turn over with a fish slice. Cook for 1 1/2 to 2 minutes more, drain and keep hot in the oven until all are cooked.

Step 4) For the salad, chop 1 skinned avocado quarter into tiny dice. Add the sweet chilli sauce and lemon juice and stir to create a salsa. Slice the remaining avocado into strips, segments or dice.
Step 5) Toss these with the tomato quarters and salad leaves, and spoon over some salsa. Serve the hot fritters with the salad dressed with the salsa alongside.
Recipe by Clare Ferguson
Looking for more delicious recipes? Why not try Homes & Gardens' simple scrambled eggs with piquillos and chillies or a mouth-watering main of prawns with lemon, chill, garlic and feta?