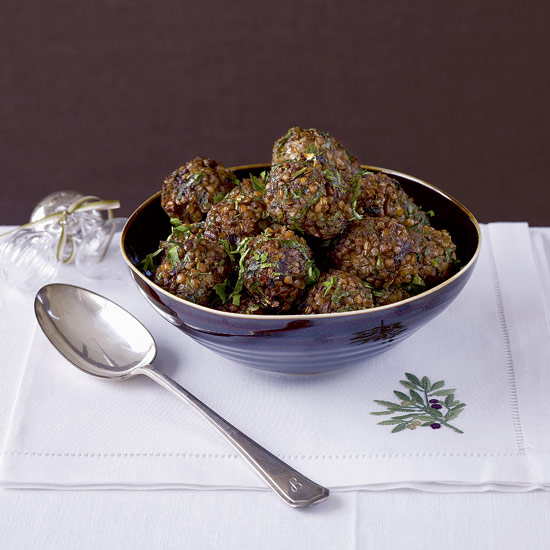 Makes 20-24 balls
50g dried porcini (ceps) mushrooms
240ml hot vegetable water or water
100ml robust red wine
200g (2 x 100g sachets) "instant" buckwheat (Kasza)
1 medium onion, chopped
1 tbsp chicken stock concentrate, gel or liquid (try Knorr)
25g flat-leaf parsley stalks, plus leaves for coating, all chopped
1 tsp sea-salt flakes
150g stale bread, in 1cm cubes or crumbs
1 medium egg
Step 1) Put the dried mushrooms and the hot liquid into a medium saucepan, bring to the boil, then reduce to simmering. Cover and cook for 2 minutes.
Step 2) Add the wine, cover and cook for 3 minutes more and then leave to stand.
Step 3) Put the buckwheat "boil in the bag" sachets into a large pan of boiling water, bring to the boil, then reduce to a simmer and cook for 15 minutes. Drain, then squeeze out the excess moisture. Discard the plastic sachets.
Step 4) Put the onion, stock, parsley stalks, salt and bread into the mushroom mixture and stir. Tip in the buckwheat and break in the egg. Mix, using a wooden spoon, to create a sticky, grainy stuffing.
Step 5) Take small handfuls and squeeze into golf-ball-sized balls. When all the mixture has been used, roll balls in chopped parsley leaves, then set in an oiled ovenproof dish and cover with foil. Once the turkey has been taken out of the oven to rest, put in the stuffing balls and heat through at around 180-190°C for 20 minutes or until hot and firm.

Apricot-Celery Stuffing
Makes 20-24 balls
Follow the recipe above but omit the wine and substitute the mushrooms with 100g dried apricots, scissor-chopped, using chopped celery instead of onion.

Pea and Ham Stuffing
Makes 600g block
Follow the main recipe, omitting the wine; use 200g frozen peas and 50g cooked ham, chopped, instead of mushrooms, and 25g plus extra mint or marjoram instead of the parsley. Drain off all but 4 tablespoons of the liquid after cooking the pea-ham mixture, add the bread and egg as before, then mash with a potato masher. The mixture will not hold its shape as balls, so bake in a foil-covered loaf tin or use to stuff the bird
For all the latest from the team, follow us on Facebook and Twitter