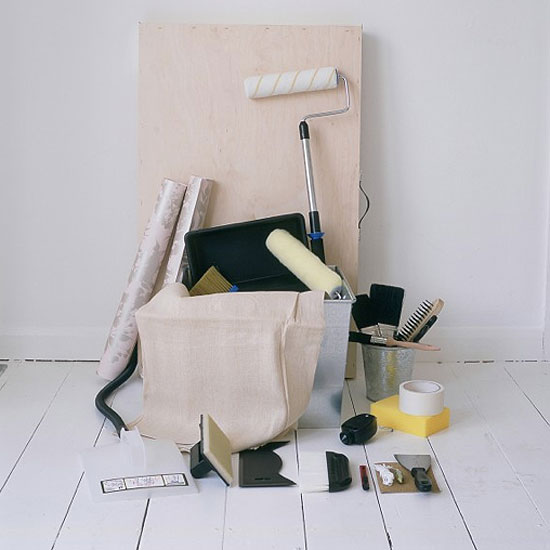 Paint Roller
Buy both short and telescopic handles for reaching up walls. The best-value rollers have synthetic heads, which are ideal for painting smooth surfaces with emulsions and water-based paints.

Paintbrushes
Buy the best-quality brushes you can afford, look after them well and they should last for years. You'll need a 50mm for doors and 100mm for walls, floors and ceilings. Smaller brushes, 2.5cm, and sash brushes (used for cutting in) are essential for fiddly work.

Wire brush
To remove flaking paint and rust.

Paper-hanging scissors
Extra-long blades help you cut straight lines.

Masking tape
Don't rely on your painting being accurate - always use tape to cover wall sockets and window frames for a professional finish.

Sponge
Keep mess to a minimum: a good sponge can mop up paint and paste spills quickly and easily.

Scraper
Removes old paint and paper.

Sandpaper
You'll need fine and coarse to smooth and finish wood and plaster. Chalk line
Great for easy, accurate drawing of straight lines.

Plumb line
A simple device to ensure you're hanging paper vertically.

Wallpaper or hanging brush
The soft bristles smooth wallpaper by squeezing out air bubbles and extra paste.

Paint Pad
An alternative to brushes and rollers, paint pads can cover a large area of wall quickly.

Paint shield
Often called a 'George', this keeps your windows, skirting or cornicing splash-free when painting.

Steamer
This is the fastest way to strip wallpaper without damaging the plaster. Buy one for around £25 or hire for around £18 for a weekend. Steamer, £25, Earlex.

Dustsheet
Spills do happen so use a dustsheet to cover and protect walls and furniture.

Paste brush
Specialist wallpaper paste brushes have softer bristles, so they're easier to use, though you can use a large paintbrush instead.

Paint tray
Make sure it's wide enough to fit rollers and paint pads. A deep end section will hold more paint so you'll need to refill it less often.

Wallpaper table
A W-leg paste table is very sturdy and folds flat for easy storage. Plastic models are easier to keep clean than wood.
Need some DIY help? Hire a tradesman today with our handy tool!