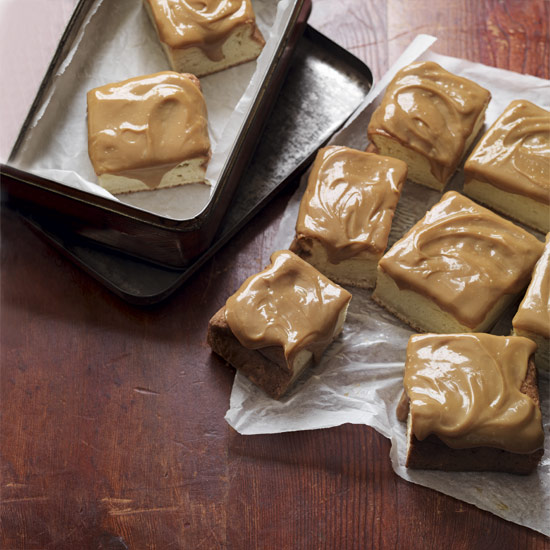 Serves 12
For the cake
6 large eggs, separated
175g golden caster sugar
1 tbsp rum
1 tsp vanilla extract
180g self-raising flour, sifted
75ml whole milk
A pinch of salt
For soaking
75ml whole milk
200g sweetened condensed milk
140ml double cream
1 tsp vanilla
1 tbsp spiced rum
To serve
400g dulce de leche or caramel
Step 1) Pre-heat the oven to 180°C, Gas Mark 4 and line the base and sides of a 20cm square cake tin with baking parchment.
Step 2) Whisk the egg yolks with all but 25g of the sugar on a high speed for about 5 minutes, until thick and pale. Add the rum and vanilla extract and whisk to incorporate. Fold in the flour and milk, in alternate additions, beginning and ending with flour.
Step 3) In a clean, dry bowl, whip the egg whites until frothy. Add the salt and remaining sugar and whisk at high speed until soft peaks form. Gently fold into the cake mixture in 2 batches. Pour into the tin and bake for 40-50 minutes, until golden brown, firm and puffed up - the cake edges will have pulled away from the sides of the tin slightly. Leave to cool in the tin. Combine all the soaking ingredients in a jug. Poke holes all over the cake's surface with a skewer, then slowly pour over a third of the soaking liquid. Wait for the cake to absorb it (about 10 minutes), then repeat until all of the liquid has been absorbed. Cover the cake and chill for up to 12 hours. To serve, carefully remove the cake from the tin (the base will be soft from the liquid) and cover the top with a thick layer of dulce de leche or caramel.