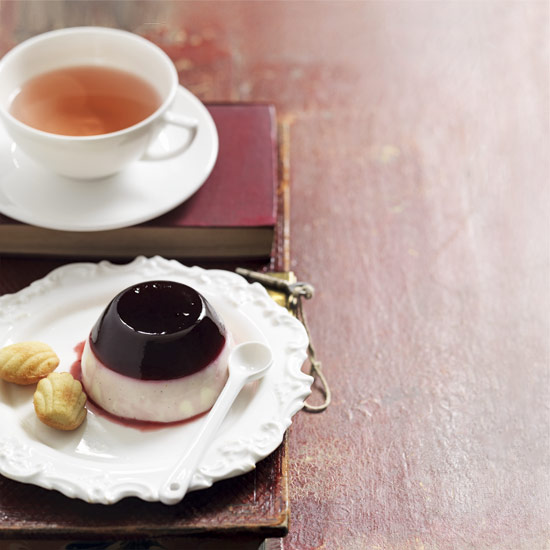 Serves 6
For the jelly
300g blackberries
110g caster sugar
5 gelatine leaves
2 tbsp lemon juice
2 tbsp cassis (optional), or an extra 2 tbsp water
For the pannacotta
520ml single cream
120ml full-fat milk
100g caster sugar
Seeds from 1 vanilla pod
4 gelatine leaves

For the madeleines
(Makes 18, or 24 mini)
80g butter, melted, plus extra for greasing
95g plain flour, plus extra for dusting  
2 large eggs
85g caster sugar
A pinch of salt
1⁄2 tsp baking powder
1 1⁄2 tbsp ground almonds
A few drops of almond extract
Icing sugar, for dusting
Step 1) To make the jelly, put the blackberries and sugar in a saucepan with 175ml water and bring to the boil. Reduce the heat, cover and simmer gently for 15 minutes.
Step 2) Meanwhile, cover the 5 gelatine leaves with cool water in a small bowl and let soften for about 5 minutes. Strain the blackberry mixture through a sieve into a bowl. Squeeze the water out of the gelatine leaves and add them to the hot blackberry juice, stirring until dissolved. Stir in the lemon juice with the cassis or 2 tablespoons of water. Divide the mixture among 6 x 200ml dariole moulds or ramekins. Cool, then chill for at least 3 hours until set.
Step 3) To make the pannacotta, put all the pannacotta ingredients except the 4 gelatine leaves into a pan and very slowly bring to the boil. Meanwhile, cover the leaves with cool water to soften for 5 minutes, then squeeze out the water and add them to the cream mixture just before it boils. Remove from the heat and stir until the gelatine has dissolved. Cover the surface with clingfilm and cool to room temperature. Carefully pour the pannacotta mixture on top of the chilled jelly. Chill until set.
Step 4) Brush the madeleine moulds lightly with melted butter, then dust with flour and shake off the excess. Put the tray in the freezer while you make the batter. Whisk the eggs, sugar and salt together, until pale and thick. Sift in the flour and baking powder and gently fold in using a metal spoon. Add the ground almonds and extract, and drizzle the melted butter around the edge of the bowl. Gently fold everything together. Chill for at least 2 hours or overnight.
Step 5) Pre-heat the oven to 220°C, Gas Mark 7. Spoon the batter into the moulds to fill by about three-quarters, but don't spread out. Bake for 7-9 minutes, until golden at the edges and risen. Cool on wire racks and dust with icing sugar. These are best eaten on the day of baking, but may be stored in an airtight container for 2 days; they also freeze well. To serve, dip the base of each pannacotta mould in hot water for a few seconds, then turn out onto a small plate and accompany with madeleines