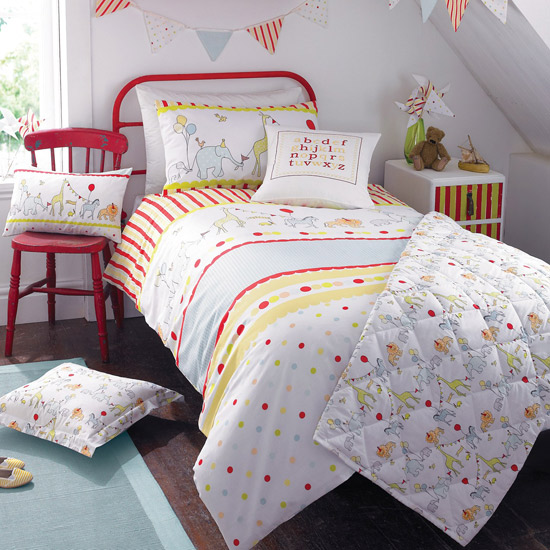 It may seem like you can't turn on the TV without seeing homemaker extraordinaire, Kirstie Allsopp popping up on your screen.
But now the queen of craft and country-style living has served up an ultra-pretty collection of children's bedlinen - and not a barbie or spiderman in sight. Phew!
The tradtional-style Little Living collection features three gorgeous designs in tasteful reds, pinks, blues and yellows that wouldn't look out of place in our own bedroom.
Available in Alphabet, Circus Parade and Top Dog, the collection manages to tow the the line between fun and lively versus simple sophistication.
Our favourite is Circus Parade (see photo) which would fit perfectly into a girl's or boy's bedroom scheme and will retail at around £32 for a single quilt set, including pillowcases.
The collection will be available from Debenhams and House of Fraser from September.
For more stockists information see Ashley Wilde.
Looking for more home inspiration? Why not check out our dedicated room ideas page? And don't forget to follow us on Twitter and Facebook for the latest home and decor news.