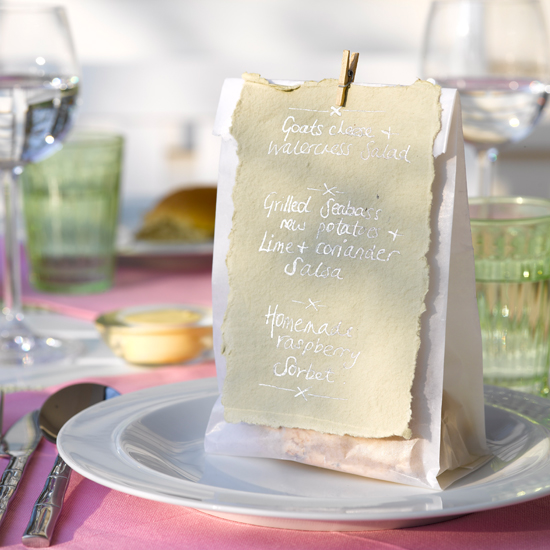 Menu favours
Sometimes the simplest ideas for table settings are the best. Fill a small paper bag with homemade biscuits or sweets, then peg a pretty hand-written menu card to the bag.
You'll find mini wooden pegs at HobbyCraft, £1.29 for 50 and pretty papers at Paperchase. You can buy small paper bags from the Carrier Bag Shop.
Fairtytale fun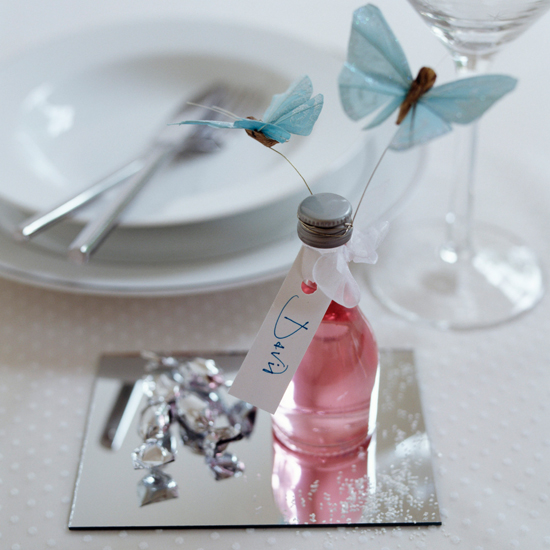 Treat guests to a little bottle of their favourite tipple, presented on a mirrored tile and decorated with small butterflies for a magical look.
Shop at Jam Jar Shop for tiny glass bottles in a range of shapes and sizes, then head to Wedding Time UK for wired butterflies, £2 for six.
You'll find a good range of labels at Notonthehighstreet, or you could make your own using a hole punch and some plain card.
B&Q sells inexpensive mirrored tiles, £10.98 for four.
******
Chalkboard place mats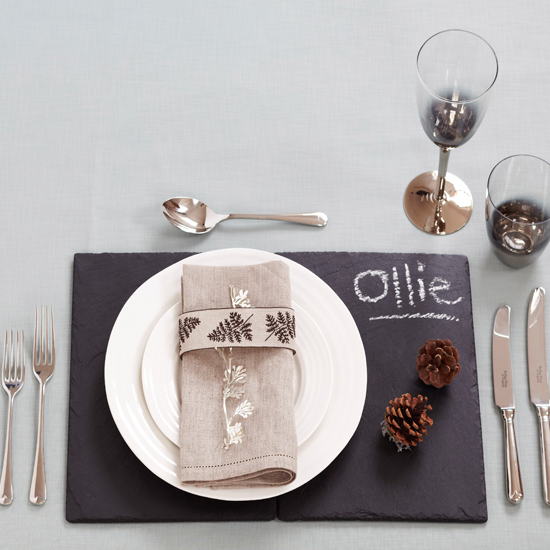 You can find slate place mats at Linea, House of Fraser, £18 for a set of two, while Dotcomgiftshop sells boxes of chalk, £1 for 12 sticks.
If you'd like to make your own placemats, visit your local DIY shed and buy a few inexpensive slate tiles. B&Q sells slate wall tiles from £11.98 for five.
Use PVA glue to fix a piece of cut-to-size felt to the base of the tile to prevent scratches to your table.

Scrabble name place markers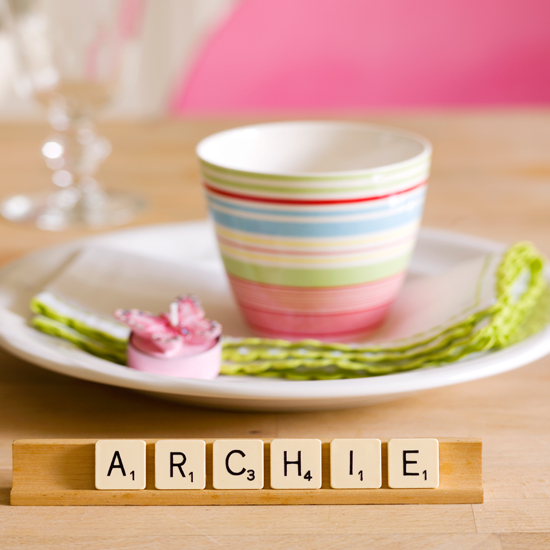 Use Scrabble letter tiles and trays to spell out your guests' names for a really personal place setting.
You can find vintage Scrabble letters online at Etsy UK, and new Scrabble games can be found at Amazon.

Dinner-party biscuit decorations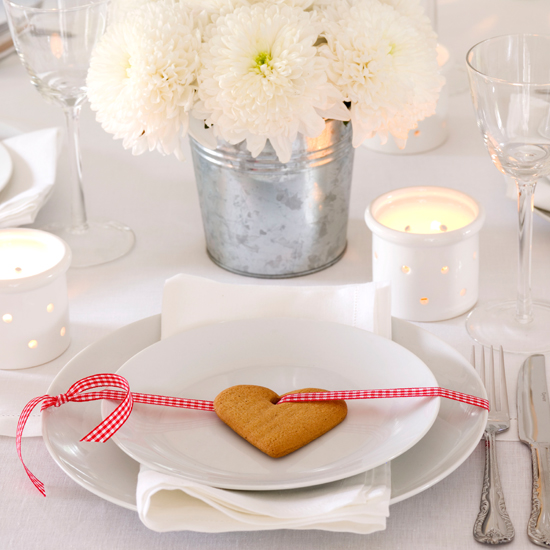 Give guests a token of your love by baking little biscuits and placing them on their plates.
Find fabulous biscuit recipes on our sister site, Goodtoknow.
Lakeland's clever Cookie Cutter Cube (£3.99) has the perfect heart-shaped cutter on it - just remember to make a little hole in the dough to thread the ribbon through after baking.
You'll find pretty ribbons at John Lewis and Jane Means.
Tie the ribbon around the plates and napkin for a professional finishing touch.
Fresh festive flowers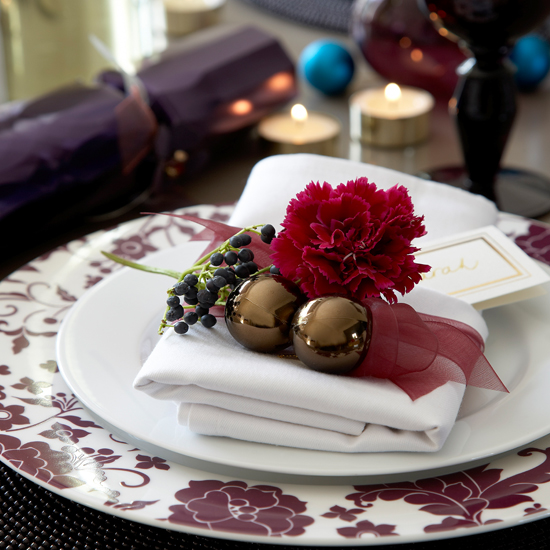 Buy a length of sheer ribbon (John Lewis has a good assortment in the haberdashery department) and tie a few pretty glass baubles to it with a bow.
Thread a single bloom - such as a rose or carnation - through the knot and then tie the arrangement loosely around a folded napkin.
For the final finishing flourish to your table settings, place a small sprig of decorative berries on every plate.

Simple stone style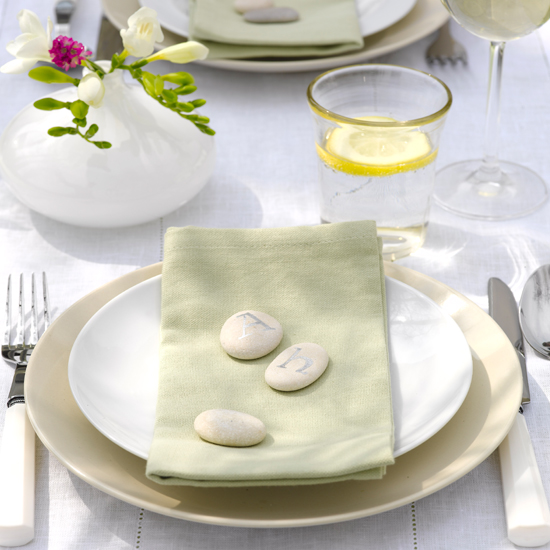 For table settings with a coastal feel, collect a few flat pebbles and wash them thoroughly. Leave to drip dry.
Use enamel paint and small paintbrush (both available from HobbyCraft) to decorate the pebbles with guests' initials.
Scatter them on loosely-folded napkins for a casual look.
If you're pushed for time, you can get a similar - and more professional - look with laser-cut 'Letter Rocks', £10 each from Emily Readett Bayley.

Cork place-card holders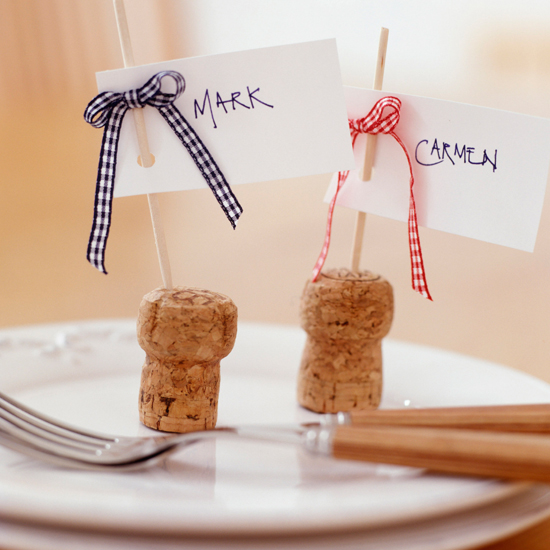 Collect champagne bottle corks to make fun party place card holders.
Use small cocktail sticks to skewer paper place cards and stick them in the corks. You'll find cocktail sticks at Drinkstuff, £1.99 for 1000.
Tie a small ribbon bow to the stick to keep the place card fixed and for decoration. Choose a colour that coordinates with your table cloth or napkins. You'll find a good selection of ribbons at John Lewis.

Mini sparklers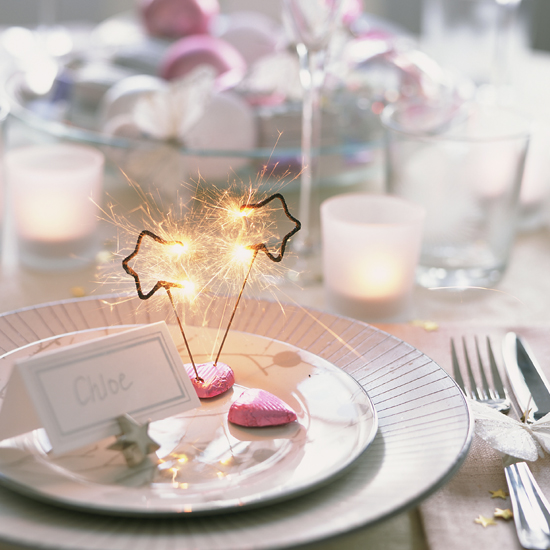 Decorate your table for a party with mini sparklers, £4.99 for five, Party Delights.
Stick them into large chocolates or desserts for a surprise display, then light them just before guests enter the room!
For the final finishing touch, scatter metallic foil stars across the tablecloth for an extra glam look. You'll find star scatter at Talking Tables, £2.75 for 25g.

Glitz and glamour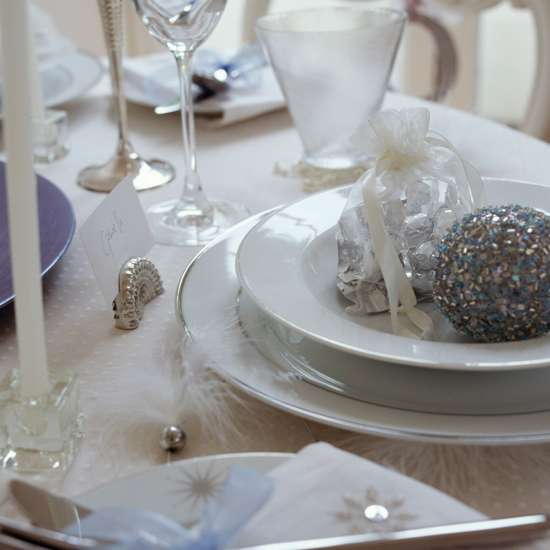 Buy each guest a small but luxurious gift - sparkly necklaces for women, cuff links for men - and place them in tiny organza bags bags, £1.99 for 10, Daisy Shop.
Tie a sparkling bauble to each bag - Graham and Green sells chic beaded and diamante decorations from £2.95 each.
Place name cards in smart silver holders - for similar, try the Shell place card holders, £1.99 each, Unique Wedding Favours.
Complete the luxury look with crisp white table linen with sparkly sequin details.